2016 Vento Cup: Dodhiwala does the double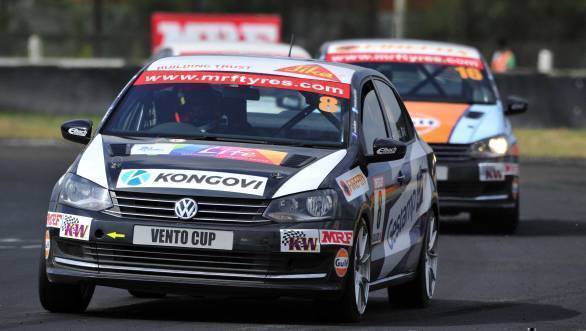 Ishaan Dodhiwala leads the Volkswagen Cup Championship standings after a double win at Round 3 at the MMST
It was a terrific day of racing for Ishaan Dodhiwala, at Round 3 of the 2016 Volkswagen Vento Cup. The driver started the second race of the weekend seventh on the grid, but in what proved to be an incident-filled event, managed to win.
Race 2 saw Pradeep Rao on pole, who managed to hold the lead. There was chaos behind him, with Aditya Pawar forced off track, and Keith Desouza also involved in an incident that saw him drop down the order. Eventually, it was guest driver Dhruv Behl second, with Ishaan lining up third on the grid. With the Safety Car brought out at the end of the first lap, racing only resumed on the third lap when it was sent back into the pitlane.
While Pradeep managed to hold onto his lead, he was followed by Behl, Dodhiwala, and Niranjan Todkari. However, when guest driver Raunak Ajinkya went off the track, hit a wall, and had his car blocking half the track, the red flag was brought out. Drivers had to regroup on the grid once again. When the race restarted, Rao went off track for a bit, which allowed Dodhiwala to move into the lead, from where he won the race. Behl finished second, with Todkari third.
The second race saw Ishaan start from pole, drive perfectly, and take the chequered flag first. Desouza and Pal Singh, who started second and third respectively, fought hard for second. However, it was Pal Singh who prevailed. Ultimately, Todkari finished third, due to a mistake from Desouza that saw him end the race in fourth position.
Price (Ex-Delhi)
Starts Rs 8.78 Lakhs