2016 Triumph Bonneville Street Twin specs, pricing out
Triumph has recently revealed a brand new range of Bonneville and Thruxtons that we told you about here. Ashok George is currently in Spain riding the new motorcycles and we should have that report up shortly. Before that, take a look at the detailed spec sheet for the new Bonneville Street Twin, the new entry level Bonneville.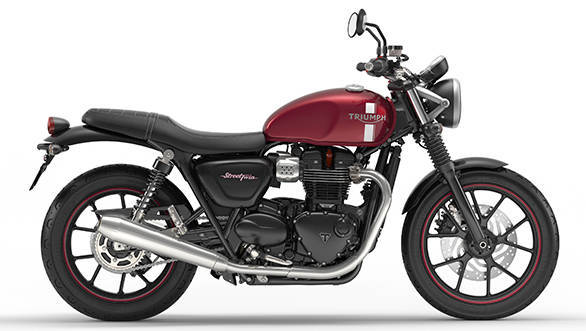 What is it?
The Bonneville range now consists of the Street Twin, the Bonneville T120 and T120 Black while there will be two new Thruxtons as well. As of now, Triumph has only revealed the full technical details on the base Street Twin.
Any changes?
Big ones. Redesigned from ground up, the Street Twin runs a brand new 900cc parallel twin, up from the 865cc twin in the old bike. The big news here is that it now features liquid cooling and ride-by wire. Triumph claims it makes a lot more torque - 80Nm now vs the old bike's 61Nm (ARAI test data). Despite the capacity increase, power has dropped from 60.7PS (ARAI test data again) to 55PS. Interestingly, Triumph claims it is more powerful than the earlier bike, citing that the power is now available lower in the rev range. To us, that doesn't make it a more powerful engine, but Ashok who's just ridden the bike says it does feel quicker. Going by the riding experience of the old bike that was dominated by the huge helping of torque from the smooth engine, so we expect this one to be nicer still. Triumph has lowered the rev limit a bit to 7,000rpm but that should be pretty inconsequential given the nature of the motor. The gearbox remains a 5-speed unit mated to a slip-assist clutch. Fuel efficiency is claimed to have been increased by a massive 36 per cent.
The brand new 900cc motor is now liquid cooled and features ride-by-wire
What about the frame?
The frame is brand new as well and Triumph has increased the rear tyre size from a 130-section to a 150/70 R 17 section tyre. Interestingly, the front tyre goes from a 110/70 R17 to a 100/90 R18 tyre. So it's now on a larger rim but with a smaller section.
The 2016 Triumph Street Twin wears alloy wheels, has ABS and traction control and modern but retro-looking rubber too
Dimension wise, the bike is now a little shorter, narrower and lower than before which should make it easier to handle. Seat height has increased by 10mm (over the base Bonnie, but 25mm lower than the T100) to 750mm still invitingly low for shorter riders. Rake has become sharper by a couple of degrees to 25 degrees and trail is shorter by about 4mm at 102.4mm. That and the 11kg reduction of dry weight to 198kg should result in a more eager handling motorcycle. A plusher seat and longer travel suspension than before promise to up the comfort quotient as well.
Does it get up to date features?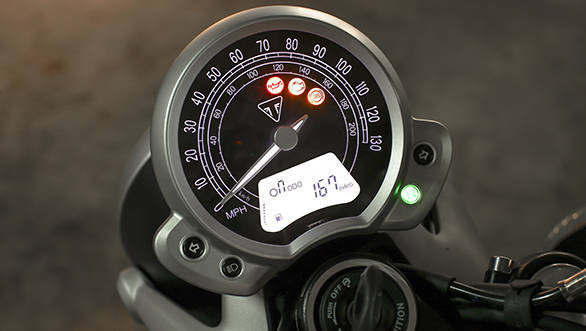 Fresh dials are a lot more comprehensive
The dials feature an analogue speedo but also get an LCD display and are now a lot more detailed than on the old bike and feature comprehensive data like a gear position indicator, distance to empty, service indicator, clock, trip computer and fuel consumption data. The rear brake light is now LED and there's a new under-seat USB charging port.
Triumph are upgrading all the 2016 Bonnevilles to LED tail lamps. Also note the seat which is similar in silhouette to the outgoing motorcycle's and, Triumph claims, a lot more comfy
Is ABS finally available?
Thankfully, yes. The Bonneville now comes with ABS as standard as well as Traction Control that can be switched off.
Is it going to cost more?
All these additions naturally come with an increase in price. In USA, the Street Twin has been priced between $8,700 and $8,950 based on the colour option. The entry level bike is available in Jet Black while the Aluminum Silver, Cranberry Red, Matte Black and Phantom Black options will cost more. This is about an increase of $700-1,000 over the old bike and we expect the Street Twin to go on sale in India at a starting price of around Rs 6.8-7 lakh in India next year.
What about the other Bonnies?
Spec details on the T120 aren't out yet but we know it will be considerably more expensive than the T100
While Triumph hasn't revealed any full technical specs on the bigger Bonneville T120s that come with a larger and all new 1,200cc parallel twin, the company has revealed pricing. These bikes retail for a comprehensively higher price than the old Bonneville T100 which was more of a cosmetic change over the standard Bonnie. The T120s will retail from between $11,500 and $11,750 in America. Expect them to be priced in India above the Rs 8.5 lakh mark when they arrive.
Check out the press release below for the full specs and details
THE NEW TRIUMPH STREET TWIN
The new Triumph Street Twin Built for fun. Built to ride. Built to make your own. The new Triumph Street Twin is our most contemporary, fun and accessible new Bonneville. With its unique character, thrilling engine, distinctive sound, stripped-back styling and dynamic riding experience, the Street Twin is the perfect Bonneville for today's rider. Powered by the all-new 900cc 'high torque' Bonneville engine. Delivering much more torque than the previous generation, lower down and across the whole rev range, for a lively, exciting ride and sound you can really feel and hear. With its new chassis and suspension, high level of capability, low seat height and incredibly accessible riding position, the Street Twin delivers refined, modern-day handling for real roads in the real world. Designed with the spirit of individualism in mind, with clean lines, minimal bodywork, contemporary upswept silencers and a garage load of stylish accessories - it's the perfect starting point for customisation. The Street Twin is one of the five exciting motorcycles in the new Bonneville family - all with 100% authentic Bonneville character, and truly modern capability and performance. Inspired by the new wave custom scene, the Street Twin takes the Bonneville bloodline firmly into the 21stcentury, without losing any of its iconic character. This is Triumph's most contemporary new Bonneville; built to slot straight into today's rider's lifestyle. It's built for fun, built to ride with a smile, and built for owners to customise. Its combination of iconic Bonneville character, stunning looks, thrilling engine, low seat height, dynamic handling and ease of personalisation makes the Street Twin THE most accessible and desirable modern classic available today – the Bonneville for every rider. New 900cc 'high torque' engine The unique character of the Street twin comes to life through the all-new 900cc 'high torque' 8 valve, parallel twin Bonneville engine. As the name suggests, it delivers a massive peak torque figure of 80Nm at a low 3200 rpm, which is an amazing 18% more than the previous model, delivered where you want it - low down and across the whole rev range. Benefitting from the pinpoint accuracy and instant throttle response of Triumph's next generation ride-by-wire fuel-injection and engine management system, the Bonneville Street Twin is engineered with a charismatic 270° firing interval for an immaculately smooth, linear power delivery through the smooth five-speed gearbox. The look of the new 900cc engine has also been beautifully crafted, with stylish black engine cases and a very high level of detailing. Incorporating contemporary engine components alongside signature features from the iconic Bonneville engine to enhance that authentic Bonneville silhouette. The all-new upswept brushed stainless steel exhaust system of the Street Twin has been developed and tuned carefully to look great and deliver the unmistakable sound of a genuine British twin, with a rich, fruity note to match its lively character, tuned to a level you can feel as well as hear. Significantly advanced fuel economy Behind the new 900 engine's stylish exterior sits a cutting-edge liquid cooling system, carefully integrated to minimise its visual impact whilst achieving cleaner emissions and enhancing fuel efficiency – an amazing 36% better than the previous generation Bonneville. Dynamic Handling The Street Twin's fun, engaging and easy-going riding experience comes courtesy of an all-new chassis and suspension - designed to bring Triumph's signature ride dynamic of neutrality and agility, and deliver refined and intuitive handling. Combining a user-friendly low seat, more substantial seat foam, greater suspension travel, a more natural riding position, slim waist profile and fantastic 'stand-over' ergonomics, the Street Twin is our most accessible Bonneville ever. Modern capability The Street Twin sets a new standard of modern capability, with a wealth of rider -focused technology to deliver advanced control, safety and enhanced rider confidence, integrated sensitively and withoutcompromise, to maintain its authentic Bonneville style and character.Including: ABS The Street Twin's variable anti-lock braking system enhances rider confidence, safety and control. Traction control Taking advantage of the ride-by-wire system, the switchable traction control system optimises the delivery of the Street Twin's amazing torque. Slip assist clutch Bringing a lighter touch and feel to the clutch to make it easier to ride, and ride longer. Ride-by-wire Enhancing throttle responsiveness, safety and feel. LED rear light Incorporated into the classically-inspired tail set-up,bringing a distinctive rear light pattern and power efficiency. USB charge socket Under-seat USB socket provided so riders can charge up their essential devices. Engine immobiliser With a transponder integrated in the new Street Twin key. Stylish single clock Feature packed single clock, incorporating a digital menu system. Key features include: - Gear position indicator - Odometer - Two trip settings - Service indicator - Range to empty - Fuel level, average and current MPG - Access to turn off traction control - Clock.Additionally riders can add accessories which would also then be accessed via the clock display. Including: tyre pressure monitoring system and heated grips. Switchgear New, elegant switchgear presents simple fingertip controls for easy access to the key features on the clock. Stripped back styling The Street Twin is an exciting contemporary take on the original Bonneville silhouette, with stripped-back styling, clean lines and minimal bodywork. Its stylish details and finishes include: - Cast wheels, finished in black - Elegant fuel tank with contemporary decals and stylish chrome filler cap - Compact indicators - LED rear light with distinctive light pattern - Compact headlight with a signature Triumph bulb cap cover badge - Elegant upswept brushed stainless steel silencer - Sculpted black side panels, with contemporary Street Twin graphics - Minimal black painted mudguards. Exciting and contemporary colours The Street Twin comes in five exciting colour schemes: - Cranberry Red, with tank and wheel stripes - Aluminium Silver with tank and wheel stripes - Matt Black - Jet Black - Phantom Black New custom accessory range Literally designed with personalisation in mind, the Street Twin is built to make your own. With the launch of the new Bonneville accessories range, with over 150 new stylish 'dealer fit' accessories for the Street Twin, it's never been easier to create your own custom. This includes a garage full of custom inspired parts, including: bench seats, fly screens, new exhausts from Vance & Hines, rear mudguard removal kits, 'Ace' style handlebars and beautiful compact bullet LED indicators. To make it easier, we've also created a set of three exciting 'inspiration' kits to use as the starting point for riders to design their own Street Twin custom, or to have fitted as a complete set – the stripped-backScrambler kit, an aggressive city Brat Tracker kit and casual sporting Urban kit. The Scrambler inspiration kit Bringing a distinctive off road style, the Scrambler kit features a host of new Street Twin accessories. Including - Brushed high-level Vance & Hines exhaust system (off-road use only) - Rear mudguard removal kit with compact rear light - Brown ribbed bench seat - Brown 'Barrel style' handlebar grips - Compact LED indicators - Brushed aluminium sump guard. The Brat Tracker inspiration kit Bringing a more aggressive city custom style, the Brat Tracker kit features a host of new Street Twin accessories.Including: - Brushed Vance & Hines slip-on silencers - Rear mudguard removal kit with compact rear light - Black ribbed bench seat - Compact LED indicators - Black 'Barrel style' handlebar grips - Brushed sump guard. The Urban inspiration kit Bringing together a casual style with an aggressive urban riding stance, the Urban kit features a host of stylish Street Twin accessories. Including: - 'Ace' style handlebars - Brushed Vance & Hines slip-on silencers - Compact LED indicators - Short tinted fly-screen - Signature single pannier, in waxed cotton and leather. Please note that availability of the Vance & Hines silencers, rear mudguard removal kits and indicators are governed by local market legislation. SPECIFICATION Engine and Transmission Type Liquid cooled, 8 valve, SOHC, 270° crank angle parallel twin Capacity 900cc Bore/Stroke 84.6 x 80 mm Compression Ratio 10.55:1 Maximum Power 55 Hp (40.5kW) @ 5900 rpm Maximum Torque 59 FT-lbs (80 Nm) @ 3230 rpm Fuel system Multipoint sequential electronic fuel injection Exhaust Brushed 2 into 2 exhaust system with twin brushed silencers Final drive O ring chain Clutch Wet, multi-plate assist clutch Gearbox 5-speed Chassis Frame Tubular steel cradle Swingarm Twin-sided, tubular steel Front Wheel Cast aluminium alloy multi-spoke 18 x 2.75in Rear Wheel Cast aluminium alloy multi-spoke 17 x 4.25in Front Tyre 100/90-18 Rear Tyre 150/70 R17 Front Suspension Kayaba 41mm forks, 120mm travel Rear Suspension Kayaba twin shocks with adjustable preload, 120mm rear wheel travel Front Brake Single 310mm disc, Nissin 2-piston floating caliper, ABS Rear Brake Single 255mm disc, Nissin 2-piston floating caliper, ABS Instrument Display/Functions LCD multi-functional instrument pack with analogue speedometer, gear position indicator, fuel gauge, range to empty indication, service indicator, clock, trip computer, scroll button on handlebars, TPMS ready, heated grips ready, fuel consumption display and traction control status display. Dimensions and Weights Length 82.3 in (2090 mm) Width (Handlebars) 30.9 in (785 mm) Height Without Mirrors 43.9 in (1114 mm) Seat Height 29.5 in (750 mm) Wheelbase 56.7 in (1439 mm) Rake 25.1º Trail 4.0 in (102.4 mm) Dry Weight 437 lbs (198 Kg) Fuel Tank Capacity 3.2 US Gallon (12 L) Fuel consumption Constant speed 56 mph: 72.8 US MPG Constant speed 75 mph: 52.0 US MPG Urban*: 60.8 US MPG *Estimates are based on the EPA exhaust emission measurement test procedures. Emissions EUR4 Standard: CO2 - 87.0 g/km Standard equipment ABS, Traction Control, Ride-by-wire, Immobiliser, USB socket, LED rear light Bursting with genuine ease-of-use, go anywhere, good-time ride-ability, the Street Twin is a fun and practical all-rounder - with real style and that legendary original Bonneville character. - ends - For further information on the new Bonneville family, please contact Nik Ellwood, Global PR Manager on 01455 453434 or email nik.ellwood@triumph.co.uk. Notes to Editors About Triumph First established in 1902, Triumph Motorcycles celebrated 110 years of motorcycle manufacture in 2012. For more than two decades, Triumph Motorcycles has been based in Hinckley, Leicestershire, and has produced iconic bikes that perfectly blend authentic design, character, charisma and performance. The Triumph Bonneville, famously named to celebrate Triumph's 1956 land speed record on the Bonneville Salt Flats in Utah, USA. The original British superbike and a race winner straight out of the crate. Chosen by famous motorcyclists of the past for its legendary handling, style, and character. It's that handling, character and style, married to modern rider-focused technology that makes the new Bonneville family THE authentic modern classic choice today. Building around 54,500 bikes per year, Triumph is the largest British motorcycle manufacturer and has over 750 dealers across the world. Triumph holds a unique place in the history of the International Six Day Trials as the motorcycle of choice for both the multiple winning British teams and famously Steve McQueen's US ride entry in 1964. At the heart of Triumph's philosophy is a commitment and passion to develop truly unique motorcycles that offer a blend of distinctive design, intuitive handling and performance to enjoy the perfect ride. This focus, innovation and engineering passion has today created a broad range of bikes suited to all motorcycle riders, including the striking 2.3 litre Rocket III, the unmistakable Speed Triple, the Daytona 200 and TT winning SuperSports Daytona 675R, the class defining Tiger 800, the transcontinental Tiger Explorer and the iconic Triumph Bonneville family. Triumph currently employs around 2000 personnel worldwide and has subsidiary operations in the UK, America, France, Germany, Spain, Italy, Japan, Sweden, Benelux, Brazil, India, Indonesia and Thailand as well as a network of independent distributors. Triumph has manufacturing facilities in Hinckley, Leicestershire, and Thailand plus CKD facilities in Brazil and India.
More on the 2016 Triumph Bonneville range:
Triumph unveils all-new 2016 Bonneville range
The Triumph Bonneville Street Twin
Triumph Bonneville T120 and T120 Black
New Triumph Bonneville Thruxton And Thruxton R
.
Price (Ex-Delhi)
Starts Rs 12,15,800
Price (Ex-Delhi)
Starts Rs 7,45,000
Price (Ex-Delhi)
Starts Rs 9,97,600