2016 Triumph Bonneville Street Twin: Five things we love and two we don't
We've just come back from riding the new Triumph Street Twin around the mountains of Valencia and are totally in love with it. There are so many things we love about it, but we'll tell you our top five. On the flipside, we have to really look hard to find things we didn't like, but we finally managed to find two, so they are here as well. Read on…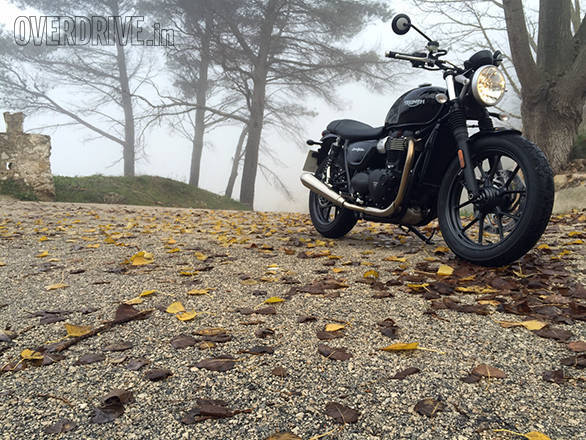 Love:
Motor
We absolutely love the new motor. It is still a parallel twin like the old Bonnie, but that is where the similarities end. It is now a liquid-cooled motor that now displaces 900cc. It makes 55PS and 80Nm of torque at 5,900rpm and 3,230rpm. If you are a spec sheet nerd, you will notice that the peak power has dropped a fair bit from the older Bonneville. 12PS lesser. But don't cry foul just yet. What Triumph has done is to move the all the power from high up in the rev band to the more usable RPMs. So while the older engine made 67PS at 7,500rpm, the new one makes 55PS at 5,900rpm.
It also gets a broader spread of power for a wider span of the rev band. Oh, and let's not forget all of the 18 per cent extra torque that comes in 3,230rpm and not 5,800rpm like before. And in the process of tuning the engine for more usable power, Triumph also managed to make the Street Twin 36 per cent more fuel efficient than the Bonneville.
Handling
The chassis on the new Street Twin is all-new. While designing the chassis, the idea was to make the Street Twin a motorcycle that could be ridden like a sportsbike if the rider felt like it. In this, David Lopez and his team of engineers have succeeded. With an altered headstock angle and a shorter wheelbase, the Street Twin is very quick to turn in. And by stripping down the bike to bare essentials, the kerb weight has fallen by over 10kg. And this adds to the quick steering nature of the Street Twin. If you remember, one of the chief complaints we had about the older Bonneville was that it was heavy to steer. Well, we wont be able to complain of that any longer. And with the addition of dual rate springs in the suspension, handling and ride quality have benefited.
See our detailed ride review of the 2016 Triumph Bonneville Street Twin
Electronics
Yes, you heard that right. The Street Twin actually has electronics in it – ABS and traction control to be exact. With addition of ride-by-wire, throwing traction control into the mix wasn't all that much effort. But then in a gentle, puppy dog motorcycle like the motorcycle like the Street Twin, you do not really need it.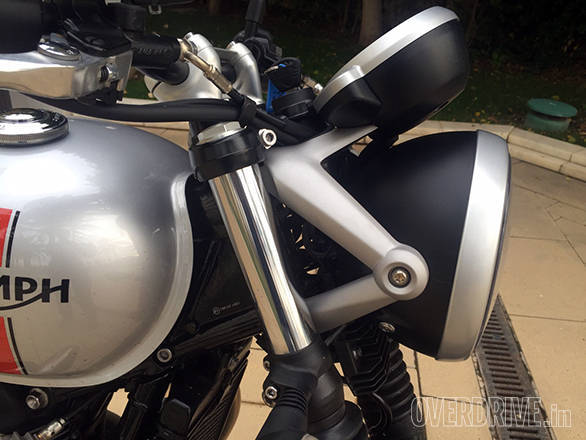 What we're really excited about is ABS. At OVERDRIVE we are huge advocates of how ABS is a must have on the new bikes. It is a safety feature that you just cannot do without any more. The Street Twin gets dual channel ABS now and with that all our safety concerns have been laid to rest.
Sound
You remember the old Bonneville? As awesome as the motorcycle was, we just could not get over the lack of noise from it. The stock pipes were all too silent for our liking. The Arrows that you could fit on them fixed things to a large extent, but that's extra money.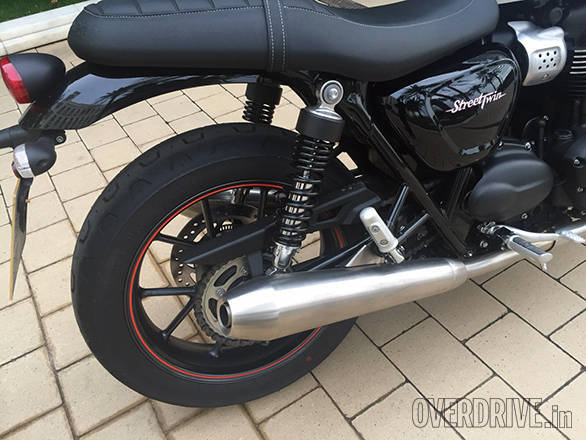 When Triumph was making the new Street Twin, the company asked the customers what they wanted from the new bike and all of them reflected our sentiment. So like any good manufacturer, Triumph listened and gave the new Street Twin a glorious soundtrack. Of course with that 270 degree crank angle, it does sound a lot like a V-twin, but we've never heard of anyone complaining about the noise that a V-twin makes. Have you?
Customisablity
The Bonneville has always been a favourite of motorcycle customisers all over the world. As a platform for many a style of custom, the Bonnie is well respected. We've seen everything from flat tracker to café racers being built out of Bonnevilles and the Street Twin is out keep that tradition alive.
And for the less creative motorcycle owner to still be able to have a special and unique motorcycle, Triumph has on offer three inspiration kits on offer. There is a Brat Tracker version that gets a Vance and Hines exhaust, a tail tidy and some other bits.
Then there is the Urban which gets the exhaust, clubman 'bars, a tiny fly screen and cotton and leather saddle bags with panniers.
Of course, our favourite is the Scrambler with its high exhaust; a wonderfully stitched bench seat, a brushed aluminium sump guard and a tail tidy with a replacement tail light. What we really like about the Inspiration kits is that they do not come strictly as kits. This means that if you want bits and pieces from each of the kits to make your own special Street Twin, you can do that too.
See our image gallery to see what all the Street Twin Inspiration kits look like
Hate:
Front-end feel
Like the older Bonneville, there isn't a lot of feedback coming from the front end of the motorcycle. This is usually not a problem for the everyday motorcycle rider, but at OVERDRIVE, we like our motorcycles to give us large amounts of data about what each extremity is doing. You still cannot feel where the limit to traction is when you lean the bike over and this is not a feeling we're fans of. And while at it, we would also like to point out that the front brakes, while very effective, lacked the same feel as well.
Laggy throttle
As awesome as it is for the sake of traction control and emissions that the Street Twin gets ride-by-wire, we have a big grouse about it. The throttle on the Street Twin is a bit laggy. When you open her up, for the first one-eighth of the throttle action, there is no response. Once you're past that, then the power comes on. This becomes a problem especially in low speed corners when you're not able to apply accurate throttle inputs. We rode it around for a few hundred kilometres and still couldn't get used to the lag. As awesome as the entire bike is, this lag in the throttle really gets our goat.
More on the 2016 Triumph Bonneville range:
Image gallery: 2016 Triumph Bonneville Street Twin
2016 Triumph Bonneville Street Twin details
2016 Triumph Bonneville Street Twin specs, pricing out
Triumph Bonneville T120 and T120 Black
New Triumph Bonneville Thruxton And Thruxton R
.
Price (Ex-Delhi)
Starts Rs 12,15,800
Price (Ex-Delhi)
Starts Rs 7,45,000
Price (Ex-Delhi)
Starts Rs 9,97,600