2016 Rotax Asia Max Challenge: Mixed weekend for Shahan in Malaysia
The second round of the 2016 Rotax Asia Max Challenge held at the Elite Speedway in Malaysia was a mixed bag for Shahan Ali Mohsin. The 11-year old Indian karter managed to top the timing sheets in the practice session, and also showed tremendous potential by winning the first heat, but eventually had to settle for sixth in the final race.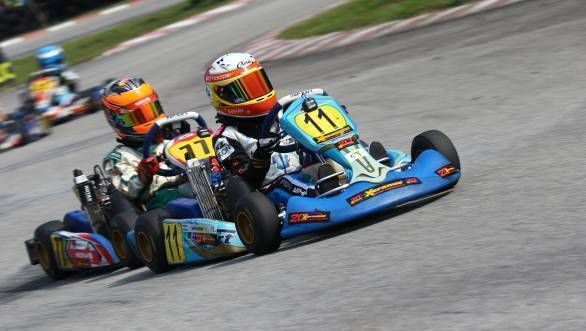 Shahan Ali Mohsin on his way to win Heat 1 at Elite Speedway during Round 2 of the 2016 Rotax Asia Max Challenge
The practice session at Elite Speedway indicated that Shahan had the pace to do well during the weekend. Indeed, when he topped the timing sheets during the session, it was clear that the pace he'd maintained at the first round of the championship, where he'd managed to finish second, had been carried over to the second round too.
During qualifying, even though Shahan was merely 0.132sec adrift of the pole sitter, he found himself on the second row of the grid, which is a clear indicator of exactly how competitive the current crop of Asian Karting Championship drivers are. His qualifying position, however, didn't seem to bother the young Top Kart Asia team driver. Shahan won the first head, getting the jump on pole man Amer Harris during the opening lap, and then running away at the head of the order.
During the second heat, the battle was closely contested, with Harris winning, while Shahan finished second, two spots up from his fourth-place starting position.
The pre-final wasn't too bad, given that Shahan set the fastest time of the race on his way to third place. Which meant that there was a chance that he'd be able to do well in the finals too.
But things didn't go according to plan. During the chaos of the opening lap Shahan found himself down in fifth place. Over the course of the remaining laps, he lost another place, eventually finishing sixth. This, despite the fact that he once again set the fastest lap of the race.
Of course, Shahan was understandably disappointed with his performance, but he managed to maintain a positive outlook. "Obviously weekends like these teach you a lot more than you'd learn on a good weekend so I am hoping we can absorb and apply this in our future races and come out stronger when situations like these arise again", he added.
Shahan is still second in the overall championship standings with 165 points, with Oscar NG leading the table with 167 points.