2016 Range Rover Evoque Convertible unveiled
Range Rover has lifted the curtains off its new convertible. Yes, a convertible SUV, the Evoque. The company has billed the Evoque convertible as the world's first luxury SUV convertible and it looks stunning. The Range Rover Evoque convertible looks stylish and sophisticated and the fabric roof certainly does not look out of place. The roof can be raised in 21 seconds and folded away into the boot in a mere 18 seconds, even when on the move. However, that can be done only at speeds up to 48kmph.
The Range Rover Evoque convertible gets rollover bars that are stowed in the rear bodywork and deploy in 90 milliseconds in case the vehicle rolls over. Traditionally, convertibles are a compromise when it comes to boot space, but the Evoque offers 251 litres of it with the roof folded down. The Range Rover Evoque convertible also gets a new 10.2-inch touch screen infotainment system that makes its debut in this SUV. It provides seamless smartphone integration, 3G connectivity and an intense sound experience, says Range Rover.
Range Rovers have always been associated with off-road capability and the company assures that the Evoque convertible is as capable off-road as its hard-top sibling. It gets Range Rover's Terrain Response System and Wade Sensing (helps during water crossing) features that lend it with serious off road cred.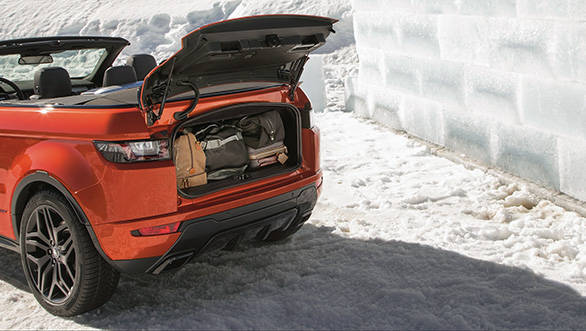 The Range Rover Evoque convertible gets one, Si4 petrol motor that produces 240PS. The diesel engine portfolio consists of 2-litre Ingenium engines from the Jaguar Land Rover family.
Although our weather is not conducive for convertibles, Range Rover may get the Evoque convertible to India soon after the global launch.
Range Rover Evoque Convertible – A convertible for all seasons
Whitley, UK, 9 November 2015 – Land Rover has unveiled the world's first luxury compact SUV convertible. Range Rover Evoque Convertible combines the bold design and refinement of Evoque with comprehensive specification and a sophisticated folding roof to create a no compromise, all-season convertible. The ground breaking and distinctive shape of the original Range Rover Evoque lends itself to an elegant convertible design and the new model sits at the pinnacle of the Evoque portfolio as the most exclusive and capable convertible in the world. As the fifth member of the Range Rover family – and the first ever convertible – the highly desirable new model combines traditional Range Rover luxury with a distinctive four-seat design and versatile storage. The Range Rover Evoque Convertible has been engineered to meet Land Rover's most rigorous standards, ensuring exceptional structural rigidity, trademark refinement, outstanding levels of safety and unrivalled breadth of capability. Gerry McGovern, Land Rover Design Director and Chief Creative Officer, commented: "Range Rover Evoque Convertible is a vehicle for all seasons. Its uniquely distinctive design and world-class engineering adds another dimension to the Range Rover family, further enhancing its desirability and appeal." The global SUV market is forecast to grow by 20 per cent over the next five years* and Evoque Convertible will play a key role in continuing Range Rover's 45-year success story, pioneering an all-new SUV sector. Evoque Convertible's eye-catching exterior design is made possible by a sophisticated fabric roof shaped to create a crisply defined silhouette that remains faithful to the original design. Its Z-fold mechanism lays flush with the rear bodywork for a sleek, uncluttered appearance when lowered. The fabric roof is the longest and widest currently fitted to any vehicle on sale today. The fully-automated roof stows in 18 seconds, and can be raised in 21 seconds, at speeds up to 30mph. When closed it provides high standards of refinement with a layer of acoustic insulation ensuring interior comfort on a par with five-door Evoque. In addition, the position of the roof doesn't affect loadspace, with a generous 251-litre boot offering unrivalled practicality for a convertible. At the heart of the high-class cabin is an all-new, high-resolution 10.2-inch touchscreen with Jaguar Land Rover's next-generation infotainment system, InControl Touch Pro, which debuts in a Land Rover. Raising the standard of connectivity for the brand, the highly-responsive and super-fast InControl Touch Pro offers seamless smartphone integration, door-to-door navigation, 3G connectivity and a premium sound system. Safety hasn't been overlooked with a Roll-Over Protection Device featuring deployable roll-over bars hidden in the rear bodywork. It deploys two aluminium bars within 90milliseconds in the unlikely event of a roll-over situation to create a survival space for occupants. Land Rover's full suite of lightweight, all-aluminium four-cylinder petrol and diesel engines is available with the potent 240PS Si4 petrol providing outstanding levels of performance and refinement. Diesel power comes from Land Rover's 2.0-litre Ingenium engines which provide highly efficient and refined performance with fuel economy up to 55mpg (5.1 l/100km) and CO2 emissions as low as 149g/km. Evoque Convertible is underpinned by Land Rover's world-class all-terrain capability, using the same advanced technologies as Evoque five-door and Coupé derivatives. A customary choice of four-wheel drive powertrains combines with Land Rover's nine-speed automatic transmission, Terrain Response® system, Wade Sensing and All-Terrain Progress Control to ensure Evoque is a convertible for all seasons. The new Range Rover Evoque Convertible will be produced at Land Rover's Halewood plant in the UK, alongside the five door and Coupé bodystyles, and goes on sale across from Spring 2016 in more than 170 markets worldwide. Pricing in the UK will start from £47,500 OTR based on a TD4 HSE Dynamic derivative.