2016 Pikes Peak Hillclimb: Electric vehicles finish second and third overall
Petrol-powered vehicles have dominated the Pikes Peak Hillclimb event for a majority of its 100-year existence. However, times certainly are changing. This year, two all-electric vehicles – the Drive eO PP100 piloted by Rhys Millen and the Acura NSX-inspired 4-Motor Acura EV Concept driven by Tetsuya Yamano – finished second and third, respectively. Millen finished just five seconds behind Romain Dumas who set the fastest time of 8m51.445s in a petrol-powered Norma M20 RD Limited. However, at 8m57.118s, Millen has set a new record in the Electric-Modified class.
Millen's car, which was purpose-built for the Pikes Peak Hillclimb, has seven Yasa-400 electric motors drawing power from a 700V/50kWh lithium-ion battery pack with a BMS (battery management system). The Drive eO PP100 has a peak power output of 1,618PS and produces a peak torque of 2,520Nm. According to Drive eO, this all-wheel drive electric car has a top speed of 260kmph.
Built with a steel tubular spaceframe chassis and a carbon-fibre body, it weighs just 1,200kg, giving it a power to weight ratio of 1,348PS per tonne! In comparison, the Drive eO PP03, which Millen drove to victory in the 2015 Pikes Peak Challenge, has a power to weight ratio of 1,206PS per tonne. This year, Millen finished the 20km climb 10 seconds faster than he did in the PP03.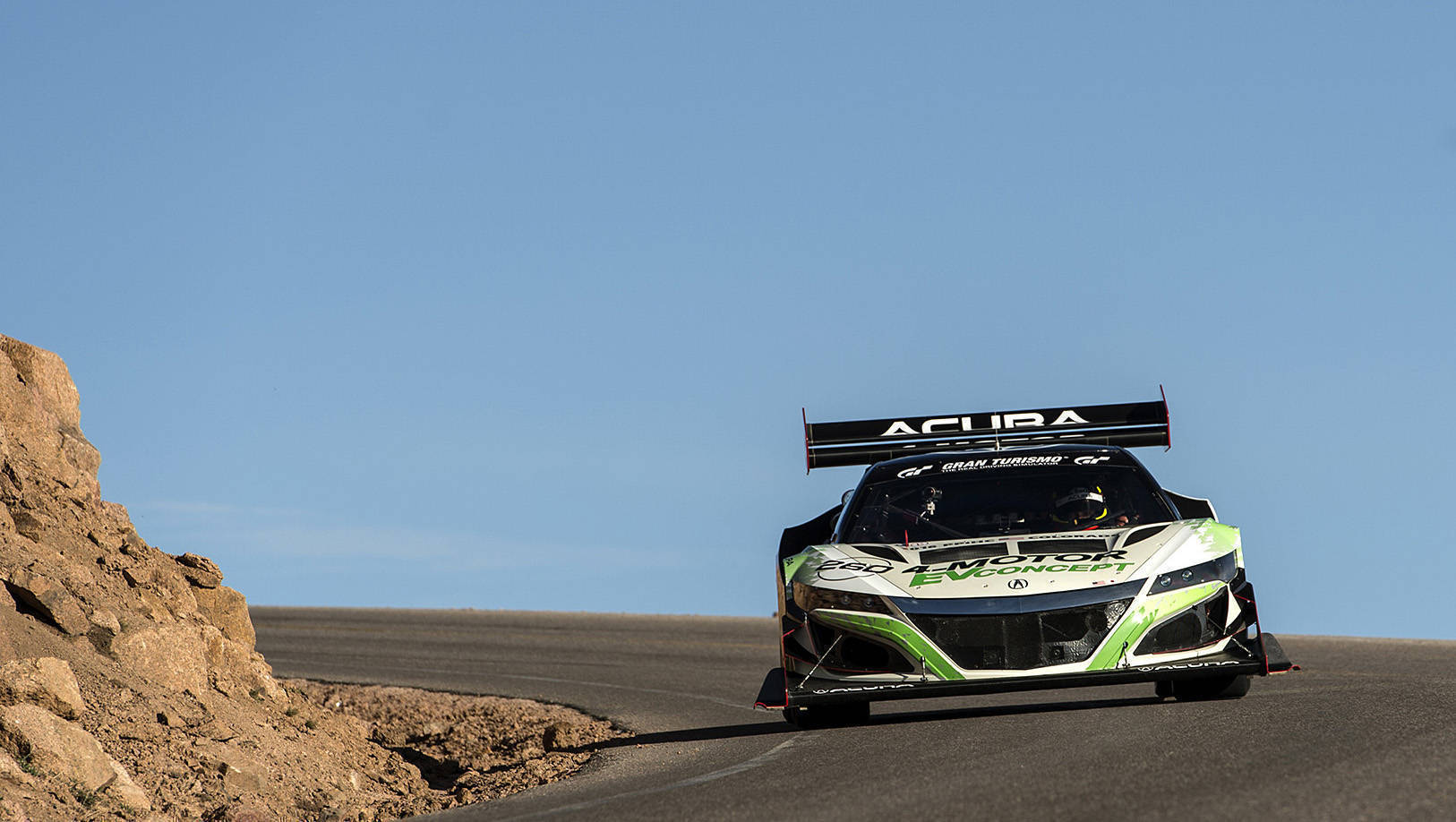 In the Acura NSX-inspired 4-Motor Acura EV Concept, Tetsuya Yamano took third place with a time of 9m51.978s. This vehicle uses Honda's Sport Hybrid SH-AWD powertrain, which means the car "has achieved independent torque distribution to all four corners – true four-wheel torque vectoring," according to Acura. It achieves this by controlling the power sent to each wheel through two twin-motor units (a motor for each wheel).
The technology used in electric cars these days is evidently developing in leaps and bounds. Of course, the 8m57.118s set by Millen is still quite far from Sebastien Loeb's 8m13.88s record in a Peugeot 208 rally car. However, his 10-second jump from last year is a very evident sign of progress for electric vehicles in motorsport. At this rate, we might see an all-electric podium sooner than we think.
Image Source: Autoblog.com