2016 Paris Motor Show: Porsche Panamera 4 E-Hybrid balances economy and performance
With the 918 Spyder and the 919 Le Mans racer, Porsche has proved to the masses that hybrid technology needn't necessarily mean better driving range and lower CO2 emissions. It can also be used for better performance when the need be. It was just a matter of time before the learnings from the 918 and 919 would filter down to Porsche's more mass-produced cars and the Panamera it is the latest to benefit from it.
The Panamera 4 E-Hybrid was showcased at the 2016 Paris Motor Show and mates a new 2.9l V6 petrol engine to a 136PS electric motor for a combined system output of 462PS. More importantly though, the full power of the electric motor is available even at a gentle dab of the throttle, unlike the previous model where the motor would kick in only beyond 80 per cent of throttle travel. The engine now replaces the previous torque converter with a new 8-speed PDK transmission.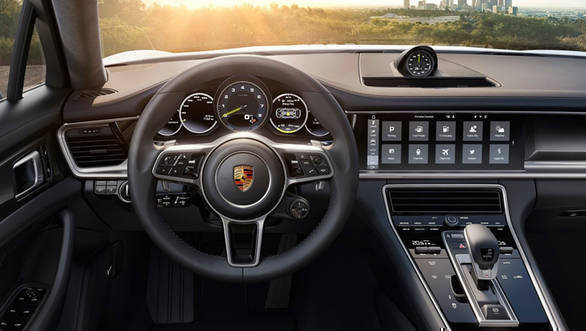 The setup can help the car achieve a top whack of 248km/h which is good news. Furthermore, the Panamera 4 E-Hybrid comes with several modes for the hybrid setup - one that can let the car run on pure electric propulsion for up to 50km with a top speed of up to 140kmph; the E-Charge mode that charges up the batteries while driving using the engine and every regeneration; the E-Hold mode which maintains the current level of the batteries and finally the Hybrid Auto mode that lets the cars computers choose the power sources as per your driving. Sport and Sport Plus modes like any other Porsche ensure maximum performance.
More from OVERDRIVE on the 2016 Paris Motor Show
2016 Paris Motor Show: India-bound Renault Koleos makes European debut
2016 Paris Motor Show: LaFerrari Aperta unveiled
2016 Paris Motor Show: Ferrari GTC4 Lusso T showcased
2016 Paris Motor Show: Dacia Duster with 6-speed dual-clutch transmission showcased
2016 Paris Motor Show: Porsche 911 GT3 Cup updated for 2017
2016 Paris Motor Show: SsangYong LIV-2 Concept revealed
2016 Paris Motor Show: Audi RS3 LMS race car revealed
2016 Paris Motor Show: Audi RS3 sedan is here with 400PS on tap
2016 Paris Motor Show: BMW X2 Concept previews upcoming coupé-crossover
2016 Paris Motor Show: Mercedes-Benz Generation EQ Concept has Tesla in its sight
2016 Paris Motor Show: 2017 Nissan Micra revealed
2016 Paris Motor Show: 2017 Land Rover Discovery unveiled
2016 Paris Motor Show: Volkswagen I.D. Concept unveiled
2016 Paris Motor Show: Cars we can't wait to see
Price (Ex-Delhi)
Starts Rs 1.45 Crore
Price (Ex-Delhi)
Starts Rs 71.38 Lakhs
Price (Ex-Delhi)
Starts Rs 5.99 Lakhs
Price (Ex-Delhi)
Starts Rs 1.38 Crore