2016 Paris Motor Show: Hyundai RN30 concept revealed
Hyundai has given the world a glimpse of what to expect from its N performance sub brand with the unveiling of the RN30 concept. It also previews the performance version of the i30N which is expected to be launched next year.
The Hyundai RN30 concept is powered by a 2.0-litre turbocharged engine which makes 380PS of power and 451Nm of torque. The carmaker has stated that this engine is currently being developed for future N production models. The engine is mated to a dual-clutch transmission and the RN30 concept gets an all-wheel drive system.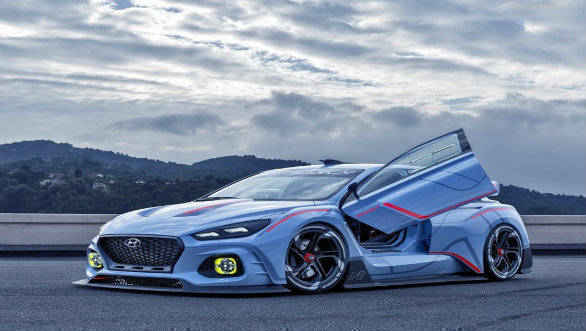 Usually high-performance cars utilise carbon fiber to reduce weight and lower the centre of gravity. However, Hyundai says the RN30 gets lightweight parts made from an all-new high-performance plastic material which has been developed in collaboration with BASF. The carmaker claims that their innovation is light, durable and environment friendly.
While the RN30 concept looks exciting for sure, it remains to be seen how much of it trickles down to the production version of the i30N.
More from OVERDRIVE on the 2016 Paris Motor Show
2016 Paris Motor Show: India-bound Renault Koleos makes European debut
2016 Paris Motor Show: LaFerrari Aperta unveiled
2016 Paris Motor Show: Ferrari GTC4 Lusso T showcased
2016 Paris Motor Show: Dacia Duster with 6-speed dual-clutch transmission showcased
2016 Paris Motor Show: Porsche 911 GT3 Cup updated for 2017
2016 Paris Motor Show: SsangYong LIV-2 Concept revealed
2016 Paris Motor Show: Audi RS3 LMS race car revealed
2016 Paris Motor Show: Audi RS3 sedan is here with 400PS on tap
2016 Paris Motor Show: BMW X2 Concept previews upcoming coupé-crossover
2016 Paris Motor Show: Mercedes-Benz Generation EQ Concept has Tesla in its sight
2016 Paris Motor Show: 2017 Nissan Micra revealed
2016 Paris Motor Show: 2017 Land Rover Discovery unveiled
2016 Paris Motor Show: Volkswagen I.D. Concept unveiled
2016 Paris Motor Show: Cars we can't wait to see
Price (Ex-Delhi)
Starts Rs 71.38 Lakhs
Price (Ex-Delhi)
Starts Rs 5.99 Lakhs
Price (Ex-Delhi)
Starts Rs 1.38 Crore
Related Stories