2016 Paris Motor Show: Audi RS3 sedan is here with 400PS on tap
Audi is going bonkers! First it decided to continue making an evocative sounding five-cylinder motor in the new 2.5-litre TFSI mill. Then Audi gave it 400PS of max power and plonked it in the TT RS. Now the German automaker has found another application for the mad engine - the practical, sedan-bodied A3. The result is the Audi RS3 sedan which promises to be another crazy car wearing the Rennsport badges.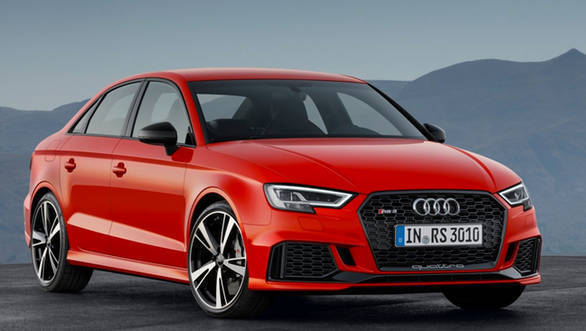 Compared to the older 2.5-litre TFSI mill from the RS3 Sportback, the new mill in the sedan in 26kg lighter and more powerful as well. It produces the same power and torque output as the TT RS (400PS/480Nm), but under the RS3 sedan's hood it is marginally slower to the ton. So while the TT RS goes from naught to 100kmph in 3.7s, the RS3 sedan will do it in 4.1s. Top speed is restricted to 250kmph by default, but say 'please' to Audi and the company can unlock the electronics to let the car reach 280kmph.
As expected, the engine in the Audi RS3 sedan is mated to a 7-speed dual-clutch automatic and the quattro all-wheel-drive system. It also gets the optional RS suspension with adaptive dampers. The chassis also gets a four-link rear axle, larger brake rotors (and optional carbon ceramic brakes at the front) and stiffer springs. The RS3 sits 25mm lower than the standard A3 sedan and has a wider front track too (20mm), making for more flared wheel arches.
As far as the design goes, the RS3 sedan gets all the customary Rennsport treatment like the larger air dams, the splitters and the skirts. It gets a neat lip-spoiler too. The RS badges are peppered all around the car, and the quattro insignia below the grille will tell you that you are looking at more serious variant of the A3.
The RS3 sedan is expected to go on sale by early 2017, and there are chances that Audi could bring it to India as well.
More from OVERDRIVE on the 2016 Paris Motor Show
2016 Paris Motor Show: Porsche 911 GT3 Cup updated for 2017
2016 Paris Motor Show: Audi RS3 LMS race car revealed
2016 Paris Motor Show: BMW X2 Concept previews upcoming coupé-crossover
2016 Paris Motor Show: Mercedes-Benz Generation EQ Concept has Tesla in its sight
2016 Paris Motor Show: 2017 Nissan Micra revealed
2016 Paris Motor Show: 2017 Land Rover Discovery unveiled
2016 Paris Motor Show: Volkswagen I.D. Concept unveiled
2016 Paris Motor Show: Cars we can't wait to see
Price (Ex-Delhi)
Starts Rs 71.38 Lakhs
Price (Ex-Delhi)
Starts Rs 5.99 Lakhs
Price (Ex-Delhi)
Starts Rs 1.38 Crore