2016 National Karting: Nayan wins Senior Max Class at Round 4
Vishnu Prasad now jumps into the lead of the Senior Max Category of the National Karting Championship after a fourth place finish in the final race at Round 4 of the championship in Kolhapur
The fourth round of the JK Tyre FMSCI National Rotax Max Championship was also the 13th edition's penultimate round. Which meant that every minor fluctuation could have a major bearing on the championship. One of the people who felt the effect of this the most was BPC Racing's Ricky Donison. The Bangalore-based karter had won the three preceding rounds of the season. However, Donison couldn't manage the wet conditions over the course of the weekend. At one point he even believed that he had a technical problem with his kart, and drove into the parc ferme area in the scrutiny bay. Even though he eventually drove back out onto the circuit, the race organisers had by then removed his transponder and deemed him a DNF.
This meant that Donison was only able to score 38 points during the race weekend, which in turn meant that he slipped down to second position in the championship with a total of 324 points overall.
The winners in the three categories of the National Karting Championship
Chennai's Vishnu Prasad took the lead in the championship, having finished third in the pre-final race and fourth in the final race. The lead, however, is slim - Prasad, with 328 points is merely four points ahead of Donison. The race itself was won by Mumbai's Nayan Chatterjee of Meco Racing. Nayan started the race sixth, and ended up fighting for the lead on the opening lap. By the fifth lap he was in the lead. Dhruv Mohite battled hard, and briefly snatched the lead from Nayan. But it wasn't to be his day - Mohite ultimately retired on the 12th lap of the pre-final race. Chittesh Mandody finished second behind Nayan, while Akash Gowda finished third after a pitlane start.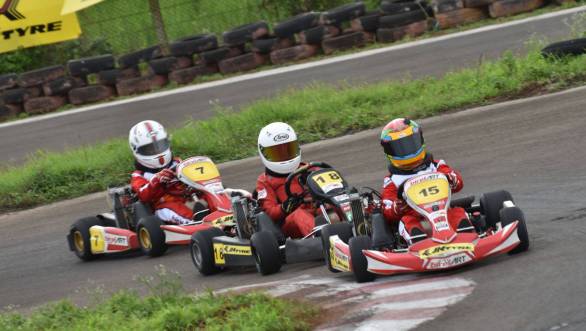 In the Junior Max category, Manav Sharma of Peregrine Racing only managed to finish sixth place, with technical problems plaguing his kart all weekend. However, he still retains his lead in the championship, with 334 points. Meco Racing's Yash Aradhya won the final race, moving up to second in the championship with 328 points. Second place in the final race went to BPC Racing's Chirag Ghorpade, who is now third in the championship with 317 points.
In the Micro Max category, Shahan Ali Mohsin seemed to be in good form until the rain spoiled his party. Shahan refused to take undue risk and it was Arjun Nair from Meco Racing who won the race, having made it past Shahan on the opening lap. Arjun finished the race first, while Shahan had to settle for second place. While Shahan still leads the championship, Arjun is now 28 points behind.
Results
MICRO MAX
Final (15 laps)
1. Arjun Nair, Bangalore (16:23.165)
2. Shahan Ali Mohsin, Agra (16:27.692)
3. Yeasash More, Bangalore (16:28.345)
Pre-final (12 laps)
1. Shahan Ali Mohsin (11:55.795)
2. Kunal Vinod, Bangalore (12:02.361)
3. Arjun Nair (12:02.361)
JUNIOR MAX
Final (18 laps)
1. Yash Aradhya, Bangalore (18:52.000)
2. Chirag Ghorpade, Bangalore (19:09.584)
3. Paul Francis, Bangalore (19:14.258)
Pre final (15 laps)
1. Chirag Ghorpade, Bangalore (13:20.373)
2. Yash Aradhya, Bangalore (13:22.885)
3. Jonathan Kuriakose, Mumbai (13:23.918)
SENIOR MAX (15 laps)
Final
1. Nayan Chatterjee, Mumbai (20:34.842)
2. Chittesh Mandody, Kolhapur (20:40,493)
Akash Gowda, 20:45.403)
Pre-final
1. Ricky Donison, Bangalore (13:20.373)
2. Dhruv Mohite, Kolhapur (13:22.885)
3. Jonathan Kuriakose, Mumbai (13:23.918)