2016 MotoGP: Valentino Rossi takes dominant win at Jerez
Movistar Yamaha rider Valentino Rossi clinched a dominant victory at the Fourth round of the 2016 MotoGP World Championship in Jerez, Spain. This was the 113th career win for the Italian, and he did it in style, setting the Fastest Lap of the race.
As the lights went out, Rossi made a brilliant start, thwarting an attack from team mate Jorge Lorenzo, whilst going into the first corner. Repsol Honda rider Marc Marquez followed the Yamaha pair, closely followed by Dani Pedrosa. Midway through the first lap, Pedrosa charged his RC213V ahead of Marquez, catching his team mate off guard. Marquez then kept attacking Pedrosa, running wide at Turn Six at one attempt. He, eventually managed to chase Pedrosa and pass him.
Lorenzo  passed Rossi at Turn Nine on Lap Two, but ran wide, allowing Rossi to regain P1. Marquez, meanwhile, worked hard to keep up with Lorenzo, but the Yamaha rider had a second on him as he began his breakaway. Marquez, tried a move on Lap 15, but ran wide, and decided to not take any further risks.
Rossi began putting the hammer down, pulling a lead of over two seconds over Lorenzo. He was simply in a class of his own, on a circuit that he loves. The lead trio were on similar set of tyres (hard front and medium rears) and it all boiled down to who'd manage the tyres the best. With 12 laps to go, Lorenzo began closing the gap to Rossi, and it looked as if the battle was not over yet. Rossi, however, was in control and responded, every time his pit board told him that his nemesis was gaining on him. Rossi kept lapping in the 1 minute 40 second window, while Lorenzo could match that pace for a few laps only, settling in the 1 minute 41 second bracket towards the closing stage.
Such was the dominance of The Doctor, that he finished 2.3 seconds clear of Lorenzo and five seconds ahead of Marquez. He received a rousing welcome as he rode into pit lane. He was smiling to ear to ear, as if it was his first win.
Dani Pedrosa finished fourth, 10 seconds behind the winner, staving off a late charge by Suzuki rider Aleix Espargaro who crossed the line in fifth. Ducati rider Andrea Doviziosso's bad luck continued to mar his 2016 campaign. On Lap Ten, his Desmosedici GP's water pump failed. Water began leaking onto his rear tyre, and he almost crashed on two occasions, forcing him to retire.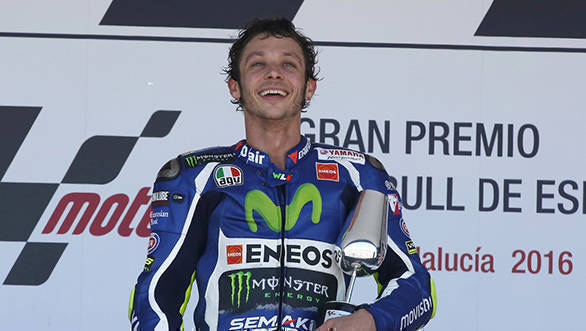 After four rounds, Marc Marquez leads the Riders Championship with 82 points. Jorge Lorenzo is second with 65 points followed by Valentino Rossi at 58 points. The next race will be held at Le Mans in France on May 8, 2016.