2016 Moto3: Francesco Bagnaia gives Mahindra Racing its first win at Assen
The eighth round of the Moto3 championship proved to be as action packed as the previous round at Catalunya. Just like in Spain, the lead changed hands so many times that it could make anyone dizzy. It also proved to be a landmark race for Mahindra Racing as they broke through the Honda-KTM monopoly of Moto3.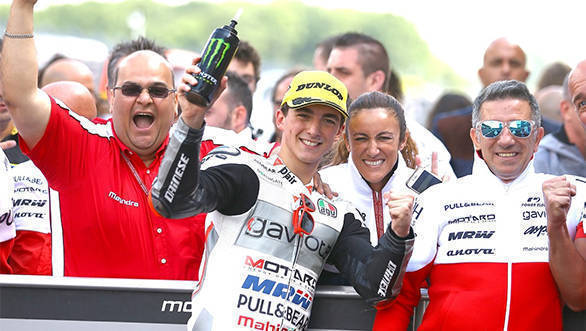 After qualifying it was Enea Bastiannini (Gresini Racing Moto3) who had pole position. Joining him in the first row was Andrea Migno and Nicolo Bulega (SKY Racing Team VR46). On Sunday, the riders all lined up at the starting grid for a race that was declared dry despite the dark clouds that were covering the sky. Even though Bastiannini and Migno got an excellent start, Romano Fenati (SKY Racing Team VR46) had taken the lead by the end of lap one.
Bastiannini had by then fallen to second place. Meanwhile, Francesco Bagnaia (ASPAR Mahindra Team Moto3) had moved up to third place from his tenth place on the grid. By the end of the second lap, Bagnaia had found his way around Bastiannini and taken second place. And by the third lap he was leading with Fenati and Bastiannini behind him. But Fenati soon overtook him by lap five following which Bagnaia fell to sixth place, his lowest in the race. From here, he started climbing the standings again to resume the fight for first with Fenati.
The last three laps proved to be quite nail biting as Niccolo Antonelli (Ongetta-Rivacold) and Migno joined the fight with Fenati and Bagnaia. The lead changed hands several times and while Bagnaia managed to fight back to the front by the second last lap, he lost his lead again.
In lap 22 Bagnaia took the lead from Fenati and Antonelli through the Ramshoek section but lost it again to Fenati who was leading the race from the back straight. But at the final chicane, Fenati was leading when Migno rode the kerb to take first place. But Bagnaia had more drive out of the corner and managed to overtake Migno to cross the finish line in first place as Fabio DI GIANNANTONIO (Gresini Racing Moto3) took third place by outbraking Fenati into the last corner. However, Migno was penalised one position for the illegal overtake in the last corner and was pushed to third place as Di Giannantonio was promoted to third place.
Mahindra's first win in Moto3 also means that KTM and Honda's domination has come to an end. The win places Bagnaia and Mahindra in fourth place in the championship behind Fenati, Jorge Navarro (Estrella Garcia 0,0) and Brad Binder (Red Bull KTM Ajo).
Related Stories