2016 Morocco Rally: Strong finish for Hero MotoSport Team Rally's Joaquim Rodrigues
CS Santosh during the last stage of the 2016 Morocco Rally
Hero MotoSports Team Rally riders, Joaquim Rodrigues and CS Santosh had a tough outing at the 2016 Morocco Rally, but recovered well on the last leg of the event. Rodrigues ended the rally in 14th place in the overall standings, while CS Santosh managed to make it to 35th overall. This was after they managed to finish 15th and 21st respectively in the final leg of the event.
Wolfgang Fisher, CS Santosh, Joaquim Rodrigues of Hero MotoSports Team Rally, all smiles after finishing the 2016 Oilibya Morocco Rally
"The race was a good experience for me and the whole Hero MotoSports Team Rally," Rodrigues said of the event. "We learnt a lot and I'm coming to terms with all the things that happen during such a high-profile event. It was a really solid rally for me and we made it to the finish with a good result - an excellent preparation for the Dakar. I was able to finish every stage and I'm very pleased about completing my first world championship rally. A big thanks to everyone on the team."
CS Santosh, who was running well until the marathon stage where he had a mechanical issue, said "Overall it's been as tough as expected, but there has been a lot of positive learning. It's good to have problems now instead of having them in January. Going to the Dakar we should have a better run and stay out of trouble. It was a lot of valuable time on the motorcycle."
Meanwhile, team principal Wolfgang Fischer said: "We're happy to celebrate this final day with both riders crossing the finish line. It represents a major milestone for our Hero MotoSports Team Rally. The Oilibya is in the books as our first participation in a world championship event and our main preparation race for the upcoming Dakar. It's a very competitive event here with all the top teams and riders involved. It was a quite intense week, having to deal with lots of situations. The riders achieved the maximum given the circumstances."
The other Indian contingent at the Morocco Rally - the Sherco TVS team - managed a very strong performance, with their rider Juan Pedrero ranked 8th overall, while Adrian Metge was ranked 11th overall.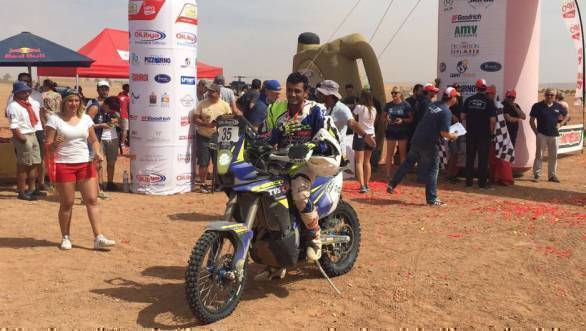 Sherco TVS' Aravind KP finished 26th overall at the 2016 Rally of Morocco
The team's other rider, Aravind KP, finished 26th overall. Aravind said "I am thrilled to complete this rally. Every stage was quite challenging, physically and mentally but I managed to use all the training experience especially while navigating to stay in the race. Also the Sherco-TVS engineers ensured my motorcycle didn't face any major issues. This rally was a fantastic learning ground and now Dakar is next."