2016 Morocco Rally: Joaquim Rodrigues 16th after Leg 4
The penultimate leg of the 2016 Oilibya Rally Morocco was held around the town of Erfoud, and covered a distance of 319km, which was the longest special stage of the rally.
The day proved to be tricky for the two Hero MotoSports Team Rally riders, Joaquim Rodrigues and CS Santosh. Rodrigues' day began well, however, there was an incident around 50km into the stage that caused trouble for him.
"Today´s stage was a little complicated. After 50 km there were a lot of rocks flying around. One rock hit my water hose and the bike started to lose water. As a result the engine delivered less power and I had to nurse the bike over 250 km to the finish with no coolant whatsoever. I wasn't able to push, it was all about being smart. I´m very happy I managed to hang in there and to arrive here. The team is now preparing the bike for tomorrow, then we´ll go into the final 275 km," said Rodrigues. The Portuguese rider is currently 16th overall in the standings.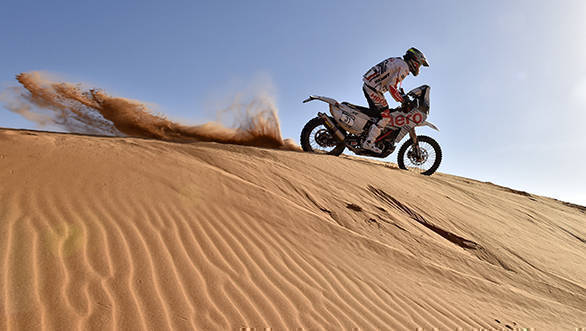 CS Santosh had failed to complete the previous Leg, and had spent the entire day stuck in the desert. However, he was able to resume riding on Leg 4, although he started last.
"Today was tough," he said. "Due to yesterday´s result I was way down the starting order and it was obvious that this will make my ride more difficult. Indeed there was a lot of traffic and dust. I still started to pick up competitors alright but 120 kilometres from the finish the first cars came and passed me. Then it becomes really hard, you even have to slow down until the dust settles."
Santosh's overall result hasn't yet been declared.
The day went well for the Sherco TVS riders, with KP Aravind ending the day 19th in Leg 4. However, his overall ranking dropped marginally to 20th. His team-mates did very well, with Juan Pedrero 9th and Adrien Metge 12th overall after Leg 4.
Related Stories