2016 Mahindra Monsoon Adventure Challenge ends in Goa
The 2016 season of the Mahindra Adventure Monsoon Challenge came to an end on June 26 in Goa after a grueling two days of rallying. More than 30 cars from Mahindra's line-up participated in the rally which kicked off in Mangaluru. Starting at Hotel Moti Mahal, the rallyists then traversed highways, B roads and rough patches along the Western Ghats, ending in Shimoga in Goa after 650km. The Mahindra Adventure Monsoon Challenge is a TSD (Time, Distance, Speed) type rally in which participants have to complete the specified course length at a specified average speed. Keeping track of time and distance covered is essential for winning.
The competitors were split into multiple categories – Open, Challenge, Corporate, Couple and Media. V Santhosh Kumar and T Nagarajan bagged the win in the Open Category. In hot pursuit were Wilson Padayattil and Sreejith PA who won in the Challenge Category. In the Corporate Category, Vinay Kumar BP and Ravi Kumar BM took the win. The Couple Category saw N Raaj Mohan and Chithra Venkatessalu took the win, while Balamurugan and T. Vijay took the win in the Media Category.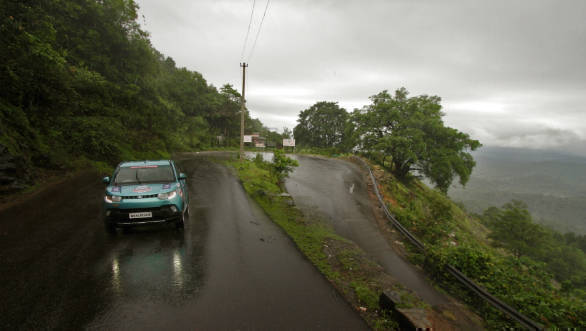 The Mahindra Adventure Monsoon Challenge is a part of Mahindra's motorsport events held throughout the year. It is approved by the Federation of Motor Sports Clubs of India (FMSCI) and held especially for Mahindra owners. The Mahindra KUV 100, TUV 300, Scorpio and XUV 500 are seen participating in the rally.