2016 JK Tyre Racing Championship Round 1: Anindith Reddy leads Euro JK 16 Championship with 33 points
The first round of the 19th JK Tyre Racing Championship came to an end today at the Kari Motor Speedway. Day 2 hosted one ITC race and two races each in the LGB F4 and Euro JK 16 championships. Akhil Rabindra's Euro JK 16 car was fixed after yesterday's crash, and he was back on the grid which had Ricky Donison on pole, Kush Maini at P2 and Nayan Chatterjee at P3.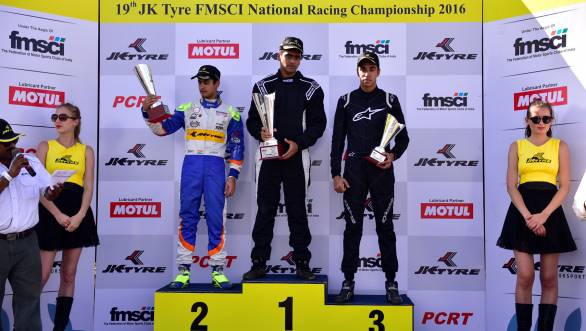 Winners of the fourth Euro JK 16 race: 1st Nayan Chatterjee, 2nd Kush Maini, 3rd Ricky Donison
When the lights fell, Maini managed to grab the lead but was soon passed by Donison and Chatterjee. Unfortunately for Donison, he was awarded a 10-second penalty for a jump start and had to really push hard to manage a podium finish. Pretty soon there was a fight for third place between Anindith Reddy, Krishnaraaj Mahadik and Maini. But it was Mahadik that fought his way up to take third.
Meanwhile, Donison and Chatterjee pulled a significant lead from the rest of the pack by the end of the race, with the latter in second place. Despite the penalty, Donison was third while Chatterjee and Mahadik took first and second place respectively.
In the second race, Chatterjee and Mahadik held first and second place right from the beginning to the chequered flag. However, Mahadik was given a 10-second penalty for a false start which pushed him down the ladder. Donison, who started from P3, was hoping to make his way up to P2 but made a mistake halfway through the race. Maini saw his chance and took third which he held till the end. Thanks to Mahadik's penalty, Maini took second place while Donison settled for third.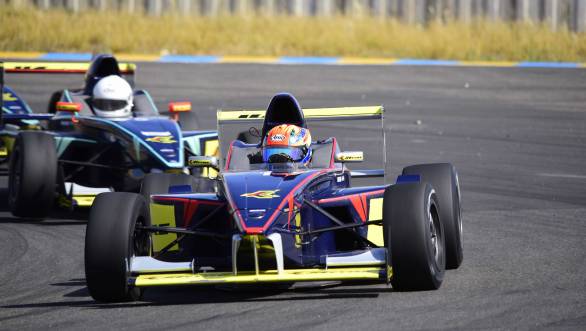 Kush Maini holds off Dhruv Mohite in the third Euro JK 16 race
In the LGB F4 Championship, both races were quite interesting with very close battles throughout. In Race 1 Vishnu Prasad and Ashwin Sundar were in a fight for first all throughout the race. There were some aggressive moves made by both of them, but it was Sundar that took the chequered flag with Prasad right on his tail.
Race 2 saw a lot of crashes and spins, the worst of which was the one involving Sudarshan Rao. After a beached car was removed from the track, the Safety Car was pulled out in the final lap. With the entire pack bunched up, everyone saw the chance to make up for lost positions and gave it all they got. However, at C1, Sudarshan made contact with one of the other drivers and his car flipped a couple of times before it came to rest.
Fortunately, there were no major injuries as they found out when he reached the hospital. The car however, was mangled beyond recognition, with nothing but the cockpit intact. After all the commotion had cleared, Rohit Khanna came out on top, while Saran Tmars and Diljith TS stood second and third on the podium.
The ITC race didn't see much drama and Ashish Ramaswamy won the race, making it his second win this round. In second place was Rajaram C, while Vidyaprakash Damodaran took third.