2016 JK Tyre 4x4 Fury: Sanbir Dhaliwal and Padam Chauhan from Gerrari Off Roaders win Day 1
The 2016 edition of the JK Tyre 4x4 Fury off-roading event was flagged off at the Orange Festival in Dambuk, Arunachal Pradesh. Stage One was held at the festival grounds where a special man made course tested the mettle of the competitors. There were ditches, inclines, boulder crossings and other challenges that also tested the off-road ability of the vehicles. Teams, comprising of four in two vehicles had to work together to get through the obstacles.
Sanbir Dhaliwal, co-driven by Gurupratap Singh and Padam Chauhan, from team Gerrari Off-Roaders were the fastest to finish the stage , setting a benchmark of 10min 41sec. Sanbir later commented that the the task was a game of coordination and the team could not afford to make a single mistake. He also said that the entry into the pits was quite challenging.
The event, this year, has witnessed participation from seven teams of four people. This adds up to 28 participants in all.
There's also a special North East category for people from the region. The Manabhum Off Road Club of Arunachal (MOCA) team were pretty competitive given the limited resources they have access to in order to set up the car. Ujjal Namshum Chow, competing in the Pro category, is giving tough competition to the teams from Chandigarh (Gerrari Off Roaders) and Karnataka's Bangalore Off-Road Drivers Club (BODA).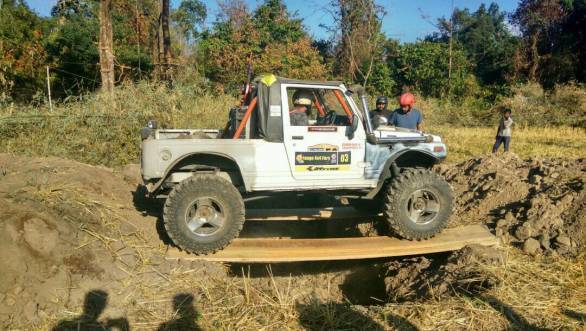 Prabhakar Jyoti, on the other hand is competing in a Force Gurkha with the only change to the stock being the bigger tyres.
The action continues tomorrow and the organisers say that the difficulty level will go up a few notches.
Price (Ex-Delhi)
Starts Rs 13.59 Lakhs