2016 IOMTT: Michael Dunlop wins Senior TT
Since the 2016 Isle of Man Tourist Trophy races kicked off, Michael Dunlop has been on record breaking spree at Douglas. The Senior TT was no different. The Hawk BMW rider set a new absolute lap record at 133.962mph shattering his own record of 133.393mph, set last Saturday in the RST Superbike TT Race. His lap time for the second lap is a staggering 16min 53.929s, much better than his already record breaking 16min 58.254s performance on Saturday.
Michael Dunlop on his way to winning the 2016 Senior TT at the Isle of Man
Dunlop has also set a new record for a six lap race at the Mountain Course of 1h 43min 56.129s. Second place in the Senior TT went to Ian Hutchinson who trailed him by 31.476s, while John McGuinness had to settle for a third place finish.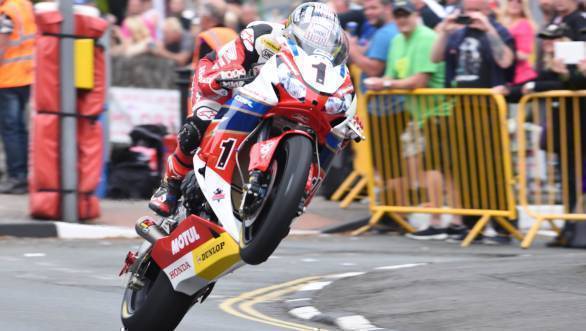 John McGuinness took third at this year's Senior TT
The final results saw Hutchinson end with 115 points to be a comfortable winner of the Joey Dunlop TT Championship with Dean Harrison second on 80 points and Dunlop third with 70 points.
In the Sure Sidecar TT Race 2, Ben and Tom Birchall took their fourth TT win. The duo seem to have comfortably won the 3 lap event with a lead of 38.7s over John Holden and Andy Winkle. The last podium position went to Tim Reeves and Patrick Farrance.
Ben Birchall and Tom Birchall (LCR Honda - IEG Racing) at Bedstead during the Sure Mobile Sidecar TT race
Apart from the glory of the ultimate day of racing, the event also saw two unfortunate deaths at the Mountain Course. The father son duo of Ian and Carl Bell competing in the Sidecar TT had an accident at Ballaspur in which Ian passed away though Carl remained unharmed. Ian had made his TT debut in 1995 and had five podiums to his name including a race win in 2003.
The other fatality occurred later in the day in the Senior TT when Andrew Soar, 32, met with an accident at Keppel Gate. Andrew made his debut on the Mountain Course at the Manx Grand Prix in 2012 finishing runner up in both the Newcomers A race and Senior MGP. He even won the Senior MGP in 2014 and later made his first appearance in the TT in 2015.
The total death count in this years TT stands at a saddening 5, but then again Snaefell is notoriously infamous for that. The other competitors to lose their lives were Paul Shoesmith, 50, in the TT practice and Dwight Beare, 27, in the Sidecar Race 1, both on May 4. Dean Smith, 58, was killed on 28 May while practising for the Pre-TT classic.