2016 INRC Round 2: Gill and Sherif win Rally of Maharashtra
Round 2 of the Indian National Rally Championship and the Indian Rally Championship concluded today at Nashik, Maharashtra. In the INRC, Mahindra Adventure's Gaurav Gill and Musa Sherif won the Rally of Maharashtra for the sixth time, completing it in a total time of 52min 8sec.
Gaurav Gill and Musa Sherif (centre), winners of the Rally of Maharashtra
Gill and Sherif set the fastest time in four of the six stages and managed to pull a lead of 1min 4sec over Arjun Rao Aroor and Satish Rajgopal. Amittrajit Ghosh and Ashwin Naik, who won the previous round at Coimbatore, finished third in this rally in 53min 59sec. Ghosh managed this despite suffering punctures in SS 1,3 and 4.
Arjun Rao Aroor and Satish Rajgopal in the final SS
Amittrajit Ghosh and Ashwin Naik finished third despite suffering punctures in three stages
In the IRC, Abhilash PG and Srikanth Gowda took the overall win with a time of 55min 20sec. Suraj Kute and Shamim Khan took second place with 1min 7sec while Amol Satoskar and Dinesh S were third with a time of 1min 13sec. In the INRC 2000 class, Bikku Babu and Milen George finished first with 54min 33sec on the clock, while Karna Kadur (co-driver Nikhil Pai) finished just one second behind him.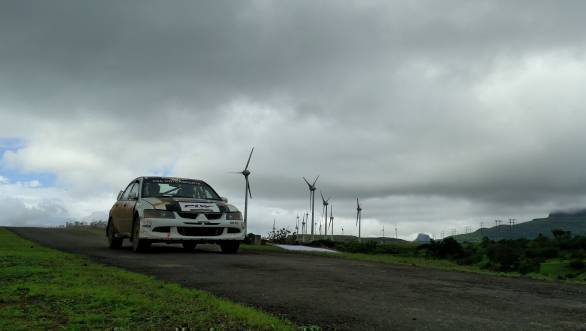 Abhilash PG and Srikanth Gowda won the IRC class by 4min 47sec
This year, the Rally of Maharashtra was held in a one-day format with three Special Stages run in two loops. The entire rally covered almost 400km, which included close to 70km of competitive stages. SS1 (which is also SS4) is a new stage introduced this year, and took competitors through a narrow tarmac road with hardly any run-off area. According to Musa, it was very technical, which helped it bring in all the aspects you'd expect of a rally stage. Additionally, the constant drizzle made the roads quite slippery.
The next round of the INRC will be held in Gurgaon between September 17 and 18.