2016 Indian National Rally Championship: Amittrajit Ghosh and Ashwin Naik victorious at Rally of Coimbatore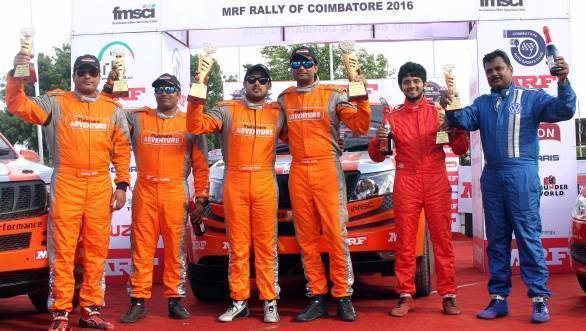 Winners of Rally Coimbatore, Amittrajit Ghosh and Ashwin Naik, flanked by Sunny Sidhu and PVS Murthy in second place, and Dean Mascrenhas and Shanmugha S in third place
Mahindra Adventure's Amittrajit Ghosh and Ashwin Naik battled hard to take victory at the first round of the 2016 Indian National Rally Championship, the MRF Rally of Coimbatore. The duo clocked an overall time of 1hr 03min 14.9sec, beating their team-mates Sunny Sidhu and PVS Murthy, who clocked 1hr 03min 59.3sec. Third place went to Dean Mascarenhas and Shanmuga S, who also emerged victorious in the INRC 2000 class.
Victory in the Indian Rally Championship (IRC) which is held concurrently with the INRC, went to Abhilash PG and Srikanth Gowda. The IRC is restricted to Indian drivers in foreign cars or foreign drivers in either Indian or foreign cars. The INRC is restricted to two-wheel drive machines, but four-wheel drive machines are allowed in the IRC.
The MRF Rally of Coimbatore was the first round of the 2016 MRF FMSCI INRC and IRC. The rally comprised six stages that ran over 75 km, winding through gravel roads in and around Kethanur. There were 39 teams who competed in the event.
Arindam Ghosh, Director of RRPM, the promoters of the event said, "I want to thank MRF Tyres, Mahindra Adventure, Polaris and Pincon for sponsoring the 2016 INRC and IRC championships. The MRF Rally of Coimbatore was a great success and like every year, the Coimbatore Auto Sports Club organised the event to perfection."
Speaking of his victory at the Rally of Coimbatore, Amittrajit Ghosh said "Great start to the season, the team worked really hard to get the cars ready and this win is because of them."
The second placed driver Sunny Sidhu said, 'The first loop we weren't on the pace somehow and we lost time, second loop we were driving well but unfortunately our clutch started slipping and we dropped down to third position, then we rectified the fault and got back to our position. In the end it turned out to be a good day."
Finishing third overall and first in 2000cc was Dean Mascarenhas who said, "First time in three years, I completed the event that too by winning in the 2000cc category. Towards the end we did face some technical issues with the car but luckily everything went off very well."
The FMSCI Cup winner, Tarun Reddy D said "Rally has been very good. This is my second time in the MRF Coimbatore Rally and it's very well organised. Hope RRPM organises better rallies."
The INRC now heads to Nashik for the second round of a five-event calendar towards the end of August. We will keep you posted on how things turn out there.