2016 Indian National Racing Championship: Keith Desouza wins Race 1 of Vento Cup
Round 4 of the 2016 Indian National Racing Championship began this weekend at the Madras Motor Race Track (MMRT) in Sriperumbudur. On Saturday, two races in the Indian Touring Cars class were held along with one race in the Indian Junior Touring Cars class and another race in the MRF F1600 class. The second round of the Volkswagen Vento Cup 2016 was also held at the MMRT after a gap of three years.
In the MRF F1600 class, Vikas Anand of Chennai managed to keep his cool and pulled off a well deserved victory. Sandeep Kumar from Chennai finished second while Anindith Reddy from Hyderabad rounded off the podium. This was Anand's third consecutive win. Although he started the race on pole position, he slipped down to third place but pulled off a fantastic comeback.
Anand, Sandeep and Anindith were running close right from the start. At turn two Anand ran wide and veered off the track. Anindith seized the opportunity and took lead with Sandeep running in second place. However, Anindith and Sandeep both went off the track on the same lap. Anand was then back in the lead which he held till the chequered flag.
Vikas Anand in action in the MRF F1600 class
"It was pretty close. I started from pole, but slipped to third. However, I put in consistent laps to stay in touch with Sandeep and Anindith. I then regained the lead when the two went off the track. However, I was not able to sustain the pace since the track was a bit slippery, but managed to stay in front and win," said Anand.
It turned out to be a good weekend for Arjun Narendran of Red Rooster Performance as he won the first as well as the second race in the Indian Touring Cars class. The Coimbatore lad started out from pole position in Race 1 and won it comfortably. In Race 2 he started in fourth place but drove well to finish on top. In Race 1, Deepak Paul Chinnapa of Race Concepts finished second while Ashish Ramaswamy of Red Rooster Performance finished third. In Race 2, N Leelakrishnan of Red Rooster Performance finished second while Deepak Paul Chinnapa came in third.
Arjun Narendran won both races of the Indian Touring Cars class
In the Indian Junior Touring Car category, Keith Desouza of Goa took top honours as Anant Pithawalla who had crossed the finish line first was docked with a time penalty for a jump start. Third place was secured by Siddharth Praveen.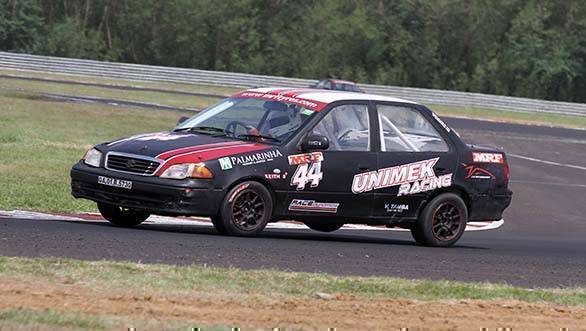 Keith Desouza won the Indian Junior Touring Cars class's first race
Keith Desouza drove well in Race 1 of the Volkswagen Vento Cup 2016 to bag top honours. He qualified in second position behind Pune's Niranjan Todkari. During the race, Niranjan made a mistake at turn seven and Keith was quick to make the most of the opportunity. Although Niranjan tried numerous times to get past him, Keith drove consistently all the way to the finish line. Karminder Pal Singh drove impressively to secure third place after starting out in sixth place on the grid.
"It was a fantastic race for me. The Volkswagen Vento Cup race car was extremely consistent throughout helping me get to pace early in the weekend. Starting the race from second position was not the best but I took the lead at the first opportunity I got and held on to it till the end." He further add, "Tomorrow I will start from eighth position and I am expecting another exciting race. There are quite a few guys ahead of me who have good pace," said Keith.
Keith Desouza qualified second behind Niranjan Todkari but won the race
Price (Ex-Delhi)
Starts Rs 8.78 Lakhs