2016 Geneva Auto Show: Mitsubishi to showcase eX SUV concept
After its showcase at the Tokyo Motor Show, the Mitsubishi eX SUV concept will makes its European debut at the 2016 Geneva Motor Show. The upcoming crossover uses Mitsubishi's new generation EV system which is claimed to give it a cruising range of 400km.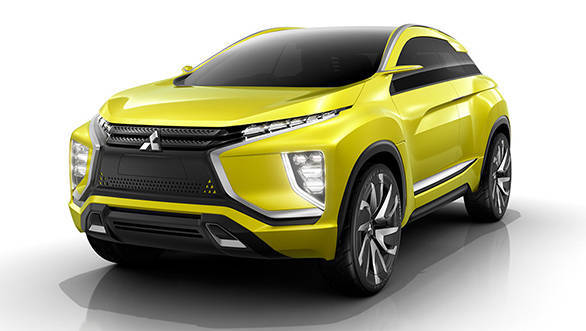 The exterior design is a combination of "shooting brake and coupe body style with compact SUV lines," says Mitsubishi. The front profile gets a 'shield' shaped design to protect pedestrians and the car, in the event of a collision. The daytime running lamps and the turn signals have been positioned above the fender to make them more visible to the pedestrians. The headlights are located near the end of the bumper to prevent blinding oncoming drivers and pedestrians.
The concept also shows a spacious interior with 'easy-access' doors. Mitsubishi states that the use of a simple frame structure covered in softshell for the dashboard, instrument cluster and other major elements of the front compartment have helped reduce the actual weight of the car. The centre console houses two portable batteries. The Mitsubishi eX concept employs an augmented reality windshield with a screen on the centre of the dashboard. The screen is linked to the driver's smartphone and a virtual cloud.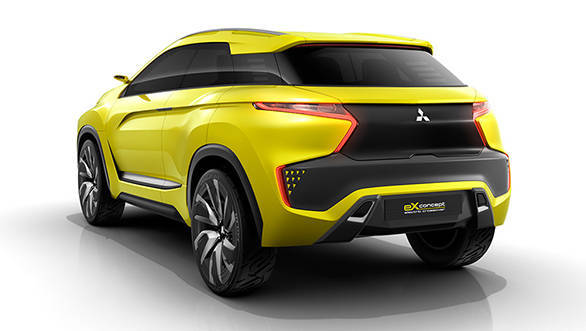 The eX SUV concept gets a 4WD drivetrain and is powered by two 95PS electric motors, one for the front axle and one for the rear. This concept will also be the first car from the Japanese carmaker to come equipped with semi-autonomous driving. With the help of data from cameras and sensors, the speed of the SUV can be automatically increased or decreased. The software also helps maintain and change lanes if required.