2016 Formula Renault 2.0: Jehan Daruvala bags race seat with Josef Kaufmann Racing
Sahara Force India Academy driver, Jehan Daruvala has just been signed by reigning Formula Renault 2.0 champions, Josef Kaufmann Racing. The young Indian talent will compete in the 2016 season of both the NEC and Eurocup series in the Formula Renault 2.0.
Josef Kaufmann, boss and owner of the team said, "We were very impressed with Jehan's performance this year. We arranged for a test with him and we were really happy with how we worked together. We are confident that we will be running up front in 2016."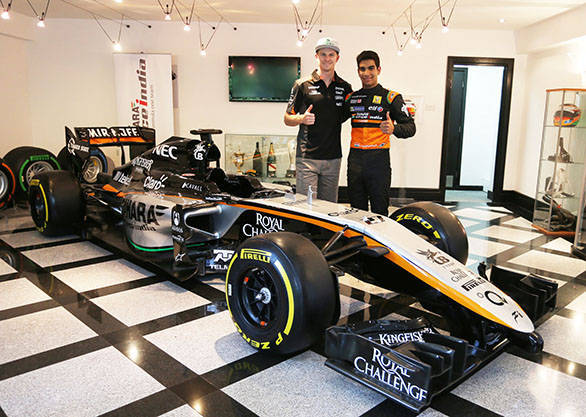 Speaking about his appointment as the new driver for 2016, Jehan Daruvala said, "I am looking forward to an early start with the series in New Zealand in 2016. It's great that I have a very competitive team-mate. I am sure that we will be able to push each other to keep improving. I would like to thank the Sahara Force India Academy for their vital and continuing support."
The Formula Renault 2.0 series serves as a learning curve for Jehan as he will get a chance to drive on former and current Formula 1 spec tracks, the most notable of which is the Monaco street circuit.
Jehan had an impressive outing in 2015 where he showcased his talent by winning the Rookie of the Race trophy in his debut race. He also went on to secure podium finishes, fastest laps and pole positions.
In additon to this, Jehan will also race in the 2016 Toyota Racing Series in New Zealand with Team M2 Competition, who are the current champions. He will compete for the title over 15 races spread across five weekends.
Jehan Daruvala to race in New Zealand Jehan signs up with Josef Kaufmann Racing
Sahara Force India Academy Racer – Jehan Daruvala has announced his commitment to participate in three different racings series in 2016 as he enters his second year of Formula Car racing. He will continue racing the Formula Renault 2.0 in the NEC series, while also competing in the entire Formula Renault Eurocup. Prior to this, the teenager from Mumbai will participate in the Toyota Racing Series in New Zealand next month. Jehan made the step up from karting to cars earlier this year and impressed at his debut event, by winning the best rookie trophy. He soon went on to earn podiums, fastest laps and pole positions as well. He finished the season second in the Rookie standings. The 2016 season for Jehan will start off in New Zealand in January. He will compete for M2 Competition, the current champions, in the highly competitive Toyota Racing Series. Jehan will vie for the title over fifteen races in five consecutive weekends with some of the best upcoming racers in the world. Importantly, current Formula Renault 2.0 champions – Josef Kaufmann Racing have signed on Jehan to race for them in the Formula Renault 2.0 in Europe. The illustrious team has propelled the careers of numerous F1 drivers the notable ones being – Gerhard Berger and current Sahara Force India driver – Nico Hulkenberg. Jehan will compete in both the NEC series and the Eurocup in the Renault 2.0 car. Each series will be conducted over seven separate rounds. Crucially for Jehan, he will be able to learn the Formula 1 circuits as each series, will run at six current or former Formula 1 Circuits. The highlight of these will be when Jehan will race at the famed Monaco street circuit in the support race for the main Formula 1 Monaco Grand Prix. Coincidentally, Jehan's team mate in New Zealand and Europe will be former World Karting Champion, Lando Norris. Both were also team mates in Karting when Jehan finished third in the World Karting Championship in 2014. "We were very impressed with Jehan's performance this year. We arranged for a test with him and we were really happy with how we worked together. We are confident that we will be running up front in 2016." said Josef Kaufmann, boss and owner of Jehan's new team. "I am looking forward to an early start with the series in New Zealand in 2016. It's great that I have a very competitive team mate. I am sure that we will be able to push each other to keep improving. I would like to thank the Sahara Force India Academy for their vital and continuing support." said the promising Indian Racer who will compete in a minimum of nineteen race weekends in 2016. ** Jehan's Career so far – 2009 – Started Karting with Rayo Racing 2010 – Champion – JK Tyre Rookie Cup - Champion – JK Tyre FMSCI National Karting Championship (Micro Max) 2011 – Champion – Malaysian Yamaha Karting Championship (Junior) 2012 – Selected into the Sahara Force India Academy - Champion – CIK FIA Asia Pacific KF3 Championship 2013 – Retained as sole member of the Sahara Force India Academy - Champion – British KF3 Championship 2014 – 2nd Runner Up – World Karting Championship - Vice Champion – German KF Karting Championship 2015 - Enters Formula Car Racing (Formula Renault 2.0) - 4 Podiums + 5 Best Rookie Trophies
Price (Ex-Delhi)
Starts Rs 83.4 Lakhs