2016 F1: Rosberg edges closer to first title with Japanese GP win
Nico Rosberg celebrates winning the 2016 Japanese Grand Prix, while second-placed Max Verstappen and third-placed Lewis Hamilton look on
It was a lights-to-flag win for Nico Rosberg at the 2016 Japanese Grand Prix. One that saw him edge closer to his first ever Formula 1 title, while team-mate and championship rival Lewis Hamilton only managed to finish third, behind Red Bull Racing's Max Verstappen. The win, Rosberg's fourth of the last five races, ensures that he now has a total of 313 points, while Hamilton has 280 points.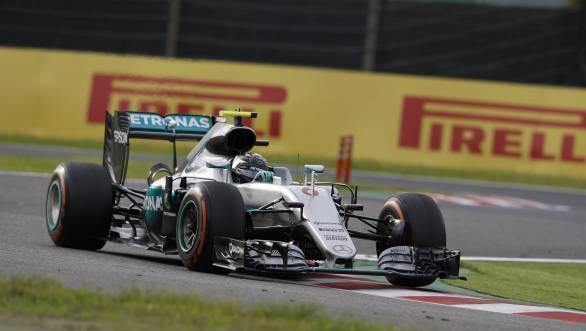 Rosberg on his way to winning the 2016 Japanese GP
While Rosberg ran a rather untroubled race, Hamilton had a tough start to the Japanese GP, dropping down to eighth place after a terrible start. He did, however, manage to dice his way through the pack, and a strong last stint saw him make it all the way to third place. While the team-mates are fighting for the Drivers' Championship, though, it came as no surprise that Mercedes AMG F1 clinched the Constructors' Championship, their third in a row.
Second-placed Verstappen had managed to keep the chasing pack at bay all through. During the initial stages of the race this involved Sahara Force India's Sergio Perez and Ferrari's Sebastian Vettel. Who were in turn being chased by Daniel Ricciardo, Nico Hulkenberg and Kimi Raikkonen. But as the race wore on, it was Verstappen who would hang onto second place, coming under pressure from Hamilton during the closing stages.
Rosberg celebrates his win at the 2016 Japanese GP
With six laps to go, the battle between Hamilton and Verstappen was the one that all eyes were on. But try as he did, getting past the Dutchman seemed impossible. One move on the second-last lap saw Verstappen shut the door on Hamilton rather firmly, which eventually meant that Hamilton had to settle for third, with Verstappen second.
Fourth place went to Vettel, with team-mate Raikkonen fifth, and Ricciardo sixth. Seventh and eighth place went to the two Force Indias of Perez and Nico Hulkenberg, while Williams drivers - Felipe Massa and Valtteri Bottas - claimed the last two points-scoring positions.