2016 Detroit Motor Show: Chrysler showcases the new Pacifica minivan
American car manufacturer Chrysler showcased the 2017 Pacifica and the Pacifica hybrid minivans at the Detroit Auto Show. The new minivan will be replacing two of its well know Chrysler predecessors the Town and Country. The car is based on an all-new platform but still carries dimensions similar to its predecessors and weighs about 136 kg lighter.
The Pacifica will be offered with front wheel drive with two engine variants. Both the trims use the same 290PS, 355Nm producing 3.6 litre Pentastar V6 engine, one of them being a hybrid plug-in powered by a 16 KW lithium-ion battery. The hybrid system is claimed to take only two hours for a full charge with a level 2 charger. It uses the Atkinson cycle, which is a system that holds the intake valve open for longer than normal to allow a reverse flow of intake air into the intake manifold. The company claims that even though a small amount of power is lost this way, it still makes the car more efficient and the hybrid system makes up for the lost power. The company claims an improved mileage figure of 28kmpl.
The minivan will come equipped with the new dual-motor electronically variable transmission, which uses two electric motors within the transmission making it possible to switch back and forth the use of the power coming into the drivetrain.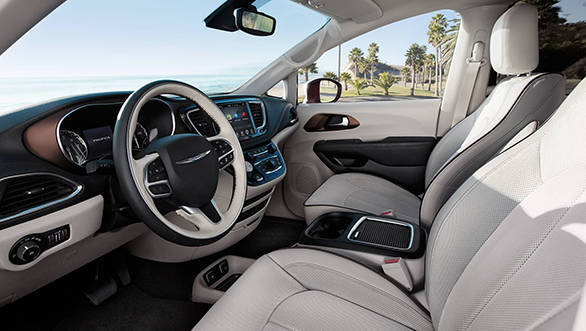 On the inside the car is very spacious. It is designed in such a manner that the passengers sit lower inside the cabin. The design seems to be inspired by the Chrysler 200, the upholstery is laid in rich materials and different colours but this is exclusive to the Limited Premium trim. In all the car will be available with five different trim options.
On the centre console the minivan gets a 8.4 inch infotainment touchscreen combined with 10 inch touchscreen displays at the back which feature the new Uconnect theater system.
The car also features a host of safety features such as 360 degree surround view camera, forward collision warning and parallel and perpendicular park assist among others. Information about when the Pacifica will be launched has not been given out yet.