2016 Detroit Motor Show: Audi h-tron quattro concept revealed
Audi has unveiled a new h-tron quattro concept at the Detroit Auto Show 2016 which is based on the e-tron quattro concept that was shown at the 2015 Frankfurt Motor Show. The h-tron quattro concept gets an all-electric drive which relies on hydrogen as its energy source.
It features the latest fuel cell technology which develops 150PS while a lithium ion battery provides an additional boost of 136PS, for short durations. It has a combined power output of 284PS and 550Nm of torque.
Apart from being a zero-emission vehicle, Audi claims the hydrogen tanks can be refueled in around four minutes and the h-tron has a range of 600km. Audi also claims that the four-wheel-drive h-tron concept can accelerate from zero to 100kph in less than seven seconds and attain a restricted top speed of 200kph. While being driven at typical city speeds, it has the ability to run in front-wheel drive mode.
The Audi h-tron concept measures 4880mm in length, 1930mm in width and 1540mm in height. It seats four, has a boot volume of 500 litres and a drag coefficient of 0.27. Similarly to the all-new Q7, the h-tron quattro concept too gets four-wheel steering which reduces the turning radius and improves maneuverability at low speeds.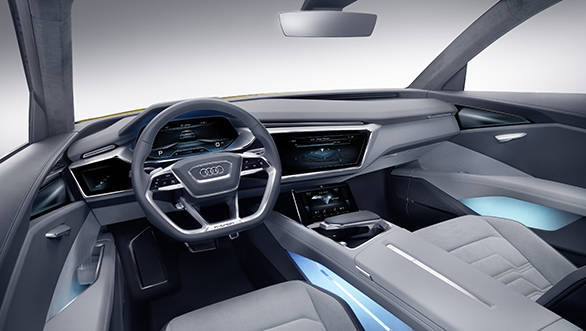 The h-tron concept also previews Audi's new autonomous driving technology that will be offered in the production version of the next-gen A8 in 2017. It gets Audi's central driver assistance control unit, known as ZFAS, which is a central interface for all piloted driving functions. It computes a model of the car's surroundings in real time and makes this information available to the assistance systems and the piloted driving and parking systems. They can then carry out driving tasks during parking or in stop-and-go traffic at speeds of up to 60 km/h.
Price (Ex-Delhi)
Starts Rs 63.12 Lakhs
Related Stories