2016 Maruti Suzuki Desert Storm: Suresh Rana takes the lead in Xtreme Category after Leg 5
Suresh Rana (co-driver Ashwin Naik) took the lead in the Xtreme category of the 2016 Maruti Suzuki Desert Storm after Aabishek Mishra (co-driver PV Srinivas Murthy) rolled his car in the second stage of Leg 5A.
Aabhishek Mishra rolled his Vitara while in the lead of the Desert Storm. Suresh Rana now leads the event in the Xtreme Category
Rana is now 69 minutes ahead of Amanpreet Ahuwalia (co-driver Virender Kashyap) who is now in second with 13:23.58s. Third in the Xtreme category is Niju Padia (co-driver Nirav Mehta) with a time of 13:42.34s.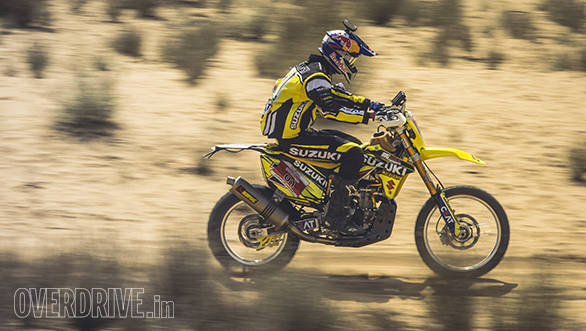 Meanwhile, in the Moto category, CS Santosh lost a significant amount of his 44-minute lead after the second night stage in Leg 5B. He is now only seven minutes ahead of Aravind KP, with a time of 10:50.22s. R Nataraj has made his way to third with 11:52.37s, pushing Sanjay Kumar M to fourth.
Today is the final leg of the 2016 Desert Storm, which will take participants from Jaisalmer to Jodhpur. The first competitive stage measuring 41.19km, starts close to 70km from Jaisalmer, while the second stage has been cancelled.