2016 Automotive Dealership Excellence Awards (ADEA) honours the best in the field
The Automotive Dealership Excellence Awards (ADEA) were given away at an elaborate ceremony held in Delhi on February 7, 2016. Dealers representing major brands such as Bajaj Auto, KTM, Hero MotoCorp, Triumph Motorcycles, Tata Motors, Maruti Suzuki and BMW were present at the ceremony.
Bertrand D'souza, editor-in-chief, OVERDRIVE with F1 driver Narain Karthikeyan
The ADEA awards are jointly organised by the Federation of Automobile Dealers Associations (FADA) and OVERDRIVE. ICICI Bank was the presenting partner for the awards while Axalta Coating Systems and DeVilbiss were the associate partners. The insurance partner for the event was Royal Sundaram, Knowledge Partner Ernst & Young.
Since 2009, the ADEA has been a platform that honours the efforts taken by two- and four-wheeler dealers to cater to customers' needs. The awards have gained great importance over the years as they encourage dealers to find better ways to bridge the connect between automobile manufacturers and customers.
The awards are judged on parameters such as green initiatives, innovation, marketing methods and employee engagement.
KVS Prakash Rao, president, FADA addressing the gathering
Bertrand D'souza, editor-in-chief, OVERDRIVE; Rakesh Batra, partner and national leader auto sector, Ernst & Young; Dilip Chinnoy, independent advisor, startups, social enterprises, CSR; Sunil Chaturwedi, CEO, Automotive Skills Development Council (ASDC); Durgesh Buxy, deputy general manager (exports) Raymond Ltd and KVS Prakash Rao, president, FADA
This year, the ceremony was attended by industry experts like Jnaneshwar Sen, senior VP, marketing & sales, Honda Cars Ltd; Pankaj Dubey, managing director, Polaris India; Vishal Mathur, vice president, sales, Volvo Eicher CV; Ashok Bhasin, head, sales, marketing & customer care, Hero MotoCorp and Milind Kapoor, senior vice president, marketing, Piaggio.
There were separate award categories for dealers from the two-wheeler, three-wheeler, four-wheeler and commercial vehicle sectors. The awards for the two- and four-wheeler categories were further divided into Mass and Luxury dealers. Scroll down to see the winners of these prestigious awards.
Winners of the Automotive Dealership Excellence Awards (ADEA)
| | |
| --- | --- |
| | |
| Category | Dealer |
| Two Wheeler - Mass Category | |
| Winner | Gallops Motors Pvt. Ltd. |
| Runner up | International Automobiles |
| Two Wheeler - Luxury Category | |
| Winner | Gallops Motors Pvt. Ltd. |
| Runner up | Rebel Motorcycles Pvt Ltd |
| Four Wheeler - Mass Category | |
| Winner | Pasco Automobiles |
| Runner up | Prestige Honda - Lally Motors |
| Four Wheeler - Luxury Category | |
| Winner | Navnit Motors |
| Commercial Vehicle | |
| Winner | Prerana Motors Private Limited |
| Runner up | Autobahn Trucking Corporation. Pvt. Ltd |
| Three Wheeler | |
| Winner | P P Automotive Pvt Ltd |
| Runner up | Ralas Motors |
| Green Initiative | Prerana Motors Private Limited |
| Employee Engagement Initiative | Pasco Automobiles |
| Marketing Initiative | Prerana Motors Private Limited |
| Customer Choice Awards | Nippon Toyota |
| | |
| Category | Brand |
| Two Wheeler - Mass Category | |
| Winner | Bajaj Auto |
| Runner up | Hero MotoCorp |
| Two Wheeler - Luxury Category | |
| Winner | KTM |
| Runner up | Triumph Motorcycles |
| Four Wheeler - Mass Category | |
| Winner | Maruti Suzuki |
| Runner up | Honda |
| Four Wheeler - Luxury Category | |
| Winner | BMW |
| Commercial Vehicle | |
| Winner | Tata Motors |
| Runner up | Bharat Benz |
| Three Wheeler | |
| Winner | Mahindra & Mahindra |
| Runner up | Mahindra & Mahindra |
| Green Initiative | Tata Motors |
| Employee Engagement Initiative | Maruti Suzuki |
| Marketing Initiative | Tata Motors |
| Customer Choice Awards | Toyota |
| | |
| Category | City |
| Two Wheeler - Mass Category | |
| Winner | Ahmedabad |
| Runner up | Suri |
| Two Wheeler - Luxury Category | |
| Winner | Ahmedabad |
| Runner up | Hyderabad |
| Four Wheeler - Mass Category | |
| Winner | Gurgaon |
| Runner up | Ludhiana |
| Four Wheeler - Luxury Category | |
| Winner | Mumbai |
| Commercial Vehicle | |
| Winner | Bangalore |
| Runner up | Kochi |
| Three Wheeler | |
| Winner | Karnal |
| Runner up | Raipur |
| Green Initiative | Bangalore |
| Employee Engagement Initiative | Gurgaon |
| Marketing Initiative | Bangalore |
| Customer Choice Awards | Kochi |
| | |
Highlights from the event
Binod Agarwal, director, Auto Summit and Mike Westwood, business director, S E Asia & India, DeVilbiss presenting the Marketing Initiative award to Prerana Motors, Bangalore
Kailash Gupta, chairman, Auto Summit; Milind Kapoor, senior vice-president, marketing, Piaggio and Ashok Bhasin, head sales, marketing & customer care, Hero Motocorp presenting the Green Initiative award to Prerana Motors, Bangalore
Rakesh Jain, ex-president, FADA, Dilip Chenoy, independent advisor for startups, social enterprises and CSR and Sanjay Mathur, cluster head, north, Royal Sundaram General Insurance  giving the Employee Engagement Initiative award to Pasco Automobiles, Gurgaon
KVS Prakash Rao, president, FADA; Sanjay Marwah director sales India & SE Asia, DeVilbiss and Deepankar Acharya, country head affinity & strategic relationships, Royal Sundaram General Insurance presenting the Customer Choice award to Nippon Toyota, Kochi
Runner up for the Commercial Vehicle category - Autobahn Trucking Corporation, Kochi
Vishal Mathur, vice president, sales, Volvo Eicher CV; Sandeep Khosla, CEO, Network18 Publishing and Hemant Nagpal, assistant general manager, ICICI Bank Ltd presenting the Four-wheeler Dealer of the Year award to Pasco Automobiles, Gurgaon
Prestige Honda Lally Motors getting the Four-wheeler Dealer of the Year runner up award from Vishal Mathur, vice president, sales, Volvo Eicher CV; Sandeep Khosla, CEO, Network18 Publishing and Hemant Nagpal, assistant general manager, ICICI Bank Ltd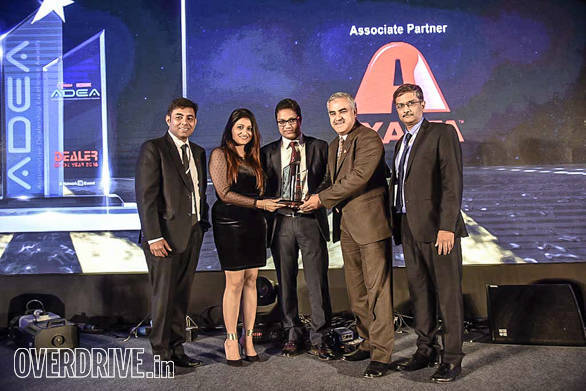 Navnit Motors, Mumbai receive the award for the Dealer of the Year for Four-wheeler (Luxury) category from Amit Jain, MD & CEO, Cardekho.com; Bertrand D'souza, editor-in-chief, OVERDRIVE; Lokendra Pal Singh, Business Manager Refinish India, Axalta Coating Systems and KVS Prakash Rao, president, FADA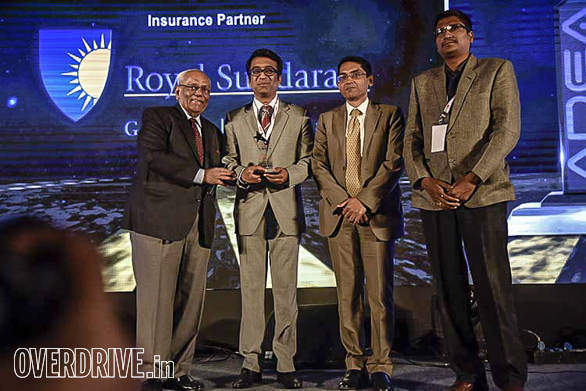 Ralas Motors getting the runner up award for the Three-wheeler Dealer of the Year category from Vinay Nevatia, ex-president FADA and Anup Kumar Saha, general manager, ICICI Bank
PP Automotive, Karnal getting the Three-wheeler Dealer of the Year award from Bertrand D'souza, editor-in-chief, OVERDRIVE and Anup Kumar Saha, general manager, ICICI Bank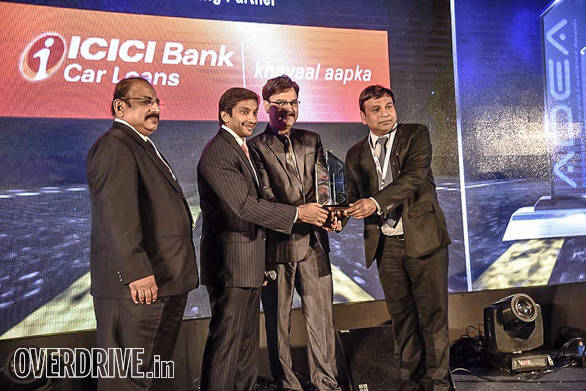 Gallops Motors, Ahmedabad receiving the Two-wheeler Dealer of the Year (Mass category) award from John Paul, vice-president, FADA; Narain Karthikeyan, Formula One driver and Pankaj Dubey, managing director, Polaris India
International Automobiles, Suri getting the runner up award for Two-wheeler Dealer of the Year (Mass category) from Vinkesh Gulati, honorable treasurer, FADA; Narain Karthikeyan, Formula One driver and Bertrand D'souza, editor-in-chief, OVERDRIVE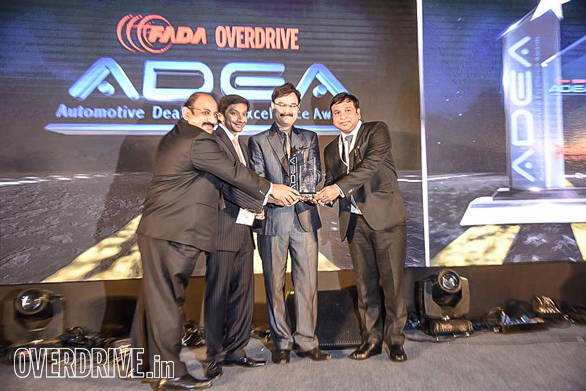 John Paul, vice-president, FADA; Narain Karthikeyan, Formula One driver and Pankaj Dubey, managing director, Polaris India giving the Two-wheeler Dealer of the Year (Luxury category) award to Gallops Motors, KTM
Related Stories