2016 Auto Expo: TVS unveils the Akula 310
TVS Motors which recently launched the Apache RTR 2004V and the new generation Victor, followed it up with the highly anticipated Akula 310 at the Auto Expo 2016. This motorcycle rides on the back of the association TVS has formed with BMW Motorrad to manufacture the motorcycle in India as well as for export markets.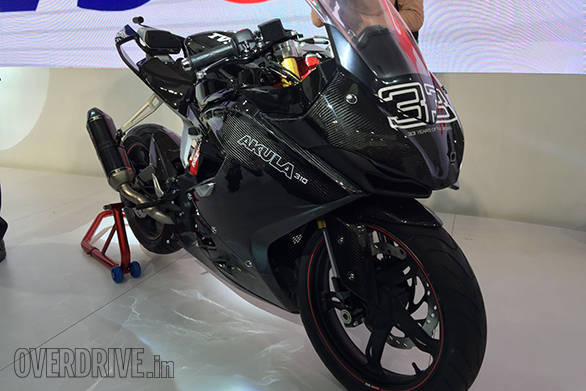 The TVS Akula 310 is Russian for shark'' and also a submarine class. Styling is incredibly racy, front to the rear the motorcycle speaks volumes about TVS manufacturing prowess and now even design. The concept introduced under TVS racing banner has a lot of tech bristling, foremost being the carbon fibre body work and the aluminum trellis sub frame. While the carbon fibre isnt any indicator, the aluminium sub frame clearly indicates what the production motorcycle could have.
Several lightweight components have gone into the motorcycle and details will follow shortly on all that this motorcycle has to offer. USD forks, radial calipers, force fed airbox and a quick shift 6-speed transmission will be some of the highlights.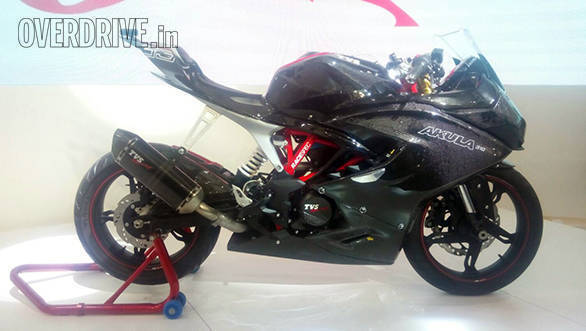 The TVS Akula 310 also has a heat management system etched into the bodywork using some clever design. This is essentially what the gill like appendages on the motorcycle do, in addition to also working to enhance stability and reducing drag for enhanced aerodynamics.
Full function digital speedo, on board gyro cameras and a steering damper are additional bits that will add credence to its dynamic abilities. However it remains to be seen if all the features showcased on the concept make it to production.
The backbone of course is the BMW G310 R but expect the production version of this motorcycle to hit markets and not just race circuits by the end of the year.
For more news on the 2016 Auto Expo, click here.
To stay at the cutting edge of automotive news in India, follow us on Twitter (@odmag) or on Facebook (facebook.com/odmag). Or download our app from the iOS orAndroid app stores today