2016 Auto Expo: Mahindra XUV Aero concept design sketch teased
Mahindra has released a design sketch of the XUV Aero concept that will be showcased at the Auto Expo 2016. The Mahindra XUV Aero is a coupe-crossover concept which is based on the XUV500 SUV and could reach production stage in the future. According to Pravin Shah, president and chief executive, automotive business at Mahindra, the XUV Aero concept will reflect bold design and feature futuristic connected technologies.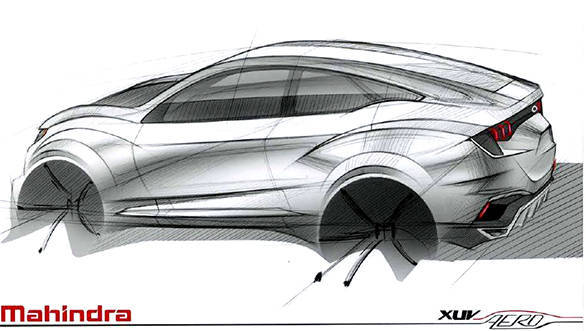 The teaser sketch clearly shows that the XUV Aero is inspired from the XUV500. It gets a sloping roofline that goes on to meet horizontally positioned tail lamps and a chunky bumper with faux diffusers, much like sportier crossovers from BMW and now Mercedes. The XUV Aero concept will also preview new infotainment and connectivity features that will be offered on Mahindra's production models in the future.
At the 2016 Auto Expo, Mahindra's stall will have a few more interesting vehicles. The Mahindra Quanto facelift equipped with an AMT transmission will be there along with the Formula E racecar. Mahindra will also showcase the two concepts that were shown at the previous Expo, the XUV Hybrid and the Halo electric sportscar.
To stay at the cutting edge of automotive news in India, follow us on twitter (@odmag) or on facebook (facebook.com/odmag). Or download our app from theiOS orAndroidapp stores today
.