2016 Auto Expo: Mahindra showcases Peugeot scooters
Mahindra had a relatively quiet display when it came to two wheelers. There was the very interesting Mahindra GenZe 2.0 electric scooter as well as a couple of modified Mojo custom bikes. While no new products were announced, Mahindra did have a display of three Peugeot scooters at its stand. For those unaware, Mahindra recently purchased the French brand and it has now put these premium scooters on display to gauge reactions.
The first of the Peugeot scooters is the retro themed Django which uses a carbureted 124.6cc engine that makes 10.4PS. The scooter features a white wall tyre on aluminium wheels, a back rest, chrome rear luggage carrier and multiple accessory options
The Peugeot Django is a retro themed scooter with a cabureted 125cc engine
The second scooter is the more aggressively styled Speedfight. It's design is dominated by the excessively fat 130/60 section 13-inch front tyre and even bigger 140/60 13-inch rear.
The name says it all, the Peugeot Speedfight is an aggressively styled scoot with a fuel injected 125cc motor
The Peugeot Speedfight runs a 124.8cc fuel injected engine that makes an unspecified amount of power. The Speedfight uses disc brakes up front and rear and weighs 130kg. Features include dual 35w headlamps and a fully digital dash.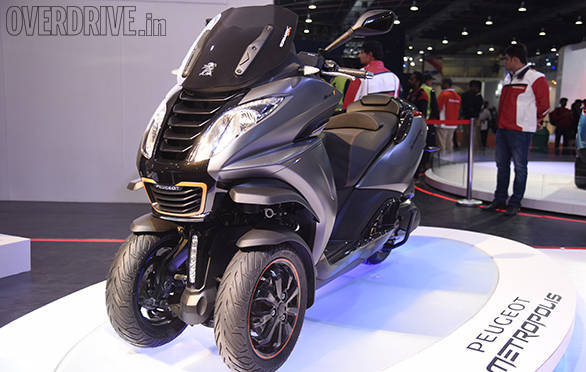 Funky looking Metropolis has a 399cc 37.2PS single cylinder engine. And one extra wheel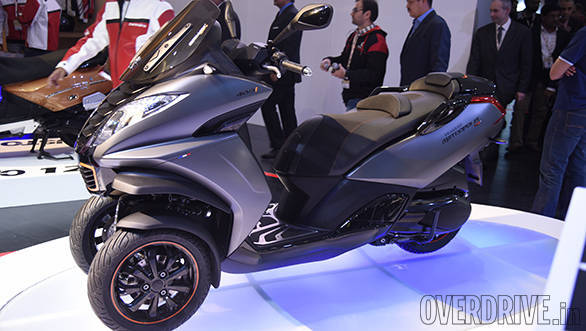 The last scooter is by far the most interesting, particularly because it is running an extra front wheel. The three wheel Metropolis uses a large 399cc single cylinder engine that makes 37.2PS. That's a huge number by scooter standards and the Metropolis needs every bit of that power to haul it's 256kg weight without fuel. The front tyres are 120/70 section 12-inchers while the rear wheel is a 140/70 14-inch unit.
The Peugeot Metropolis has an adjustable windscreen, advanced tilting front suspension and has storage space for two full face helmets.
For more from OVERDRIVE on the Auto Expo 2016, click here
To stay at the cutting edge of automotive news in India, follow us on Twitter (@odmag) or on Facebook (facebook.com/odmag). Or download our app from the iOS or Android app stores today