2016 Auto Expo: Mahindra showcases futuristic GenZe electric scooter
Mahindra GenZe is an American subsidiary of the Mahindra group that specialises in connected two-wheelers. Recently, at CES, the company unveiled its GenZe 2.0 scooter that was developed with a tie-up with AT&T.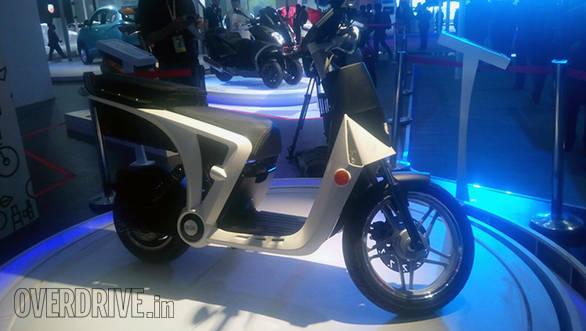 The GenZe is essentially a fully electric scooter that can exchange data with other AT&T products like Global SIM and Control Centre to build what Mahindra calls the GenZe Mobile Rider Solution. The GenZe works on a CAN (controller area network) bus network, which is a communications network that interconnects components inside a vehicle. Another technology called GenZe Cruise Connect System regulates data through a cloud-based system.
We had a chance to go through the GenZe's comprehensive digital screen and discovered it has huge functionality and feels as fast and fluid as a well-specced tablet. It allows users to chose riding modes and even set up the bike to their own requirements by choosing exactly how much torque and power they would like. The entire user manual is available to browse through at any point on the main screen.
Another GenZe 2.0 party trick is that it has an easily removable battery that can be carried around and charged anywhere. The GenZe has a usable range of nearly 50km and requires about three and a half hours for an empty to full charge. Top speed is 50kmph. The scooter uses a full aluminium frame to keep its weight low.
The Mahindra GenZe 2.0 is designed to be extremely versatile and has a storage space under the riders seat where a user can charge a cell phone. The rear section also doubles up as stowage area and customers can opt for either a hard or soft carry case that is easily detachable. For now, the GenZe is only a single seater as American regulations state that any two-wheeler with two seats must be registered as a motorcycle, while this can be registered as a moped.
The GenZe is at the Mahindra stand solely for gauging audience reactions but it may not be too long before we see such vehicles from Mahindra adapted for our market. One thing is clear - that Mahindra is pushing to be the market leader in terms of electric vehicles.
For more stories from the Auto Expo 2016, click here
To stay at the cutting edge of automotive news in India, follow us on Twitter (@odmag) or on Facebook (facebook.com/odmag). Or download our app from the iOS or Android app stores today