2016 Auto Expo: A quick round up of the big-displacement motorcycles launched
The 2016 Auto Expo showed off a lot of two-wheelers that will enter the premium motorcycle and scooter markets in India shortly. The big-displacement motorcycle action though, was fierce, as befits a young market finding its feet and beginning to spend big money on big motorcycles. Here's a round-up of the big-displacement action from the 2016 Auto Expo.
2016 Indian Chief Roadmaster
The Indian Roadmaster is the Chieftain with even more luxurious appointments including a wind deflector the feet and a top box, on top of the upper fairing and rear panniers from the Chieftain. Indian is now taking bookings for the 2016 model of the Roadmaster as well as the other Chiefs featuring delightfully retro-hued new paint jobs. The brilliant 1811cc V-twin powers all of them and the Indian Chief line-up is amongst the best cruisers in the world today.
Engine: 1811cc V-twin
Performance:138.9Nm@2,600rpm, 421kg dry
Price: Starts Rs 36.70 lakh ex-showroom Delhi
Availability: On sale
More specifications here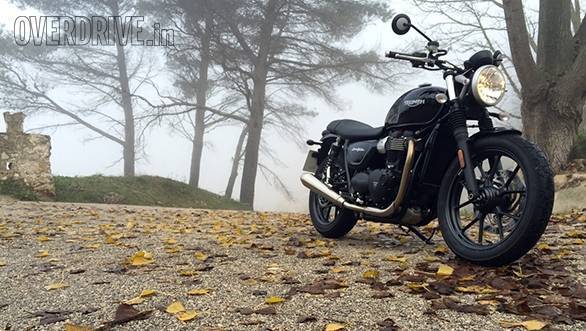 The new Triumph Bonneville Street Twin is the baby of the new Bonnie class, but it is a hard hitting motorcycle on many counts. The new 900cc engine is tuned for torque and it trades in significant horsepower on paper for this. But on the road, the Triumph Bonneville Street Twin is an energetic, swift motorcycle that uses its small size and design to charm and appeal. New riders will find it unintimidating and Triumph surely have a hit on their hands. The Street Twin is also ride-by-wire, has standard ABS, traction control and more. It's quite the deal.
Engine: 900cc, 8-valve, parallel twin
Performance: 55PS@5,900rpm, 80Nm@3230rpm, 198kg (dry)
Price: Rs 6.9 lakh ex-showroom Delhi
Availability: Bookings open now
More specifications here
Triumph Bonneville Street Twin launched in India at Rs 6.9 lakh
The Triumph Bonneville T120 is, momentarily, the flagship of the Indian Bonnie range, until the Thruxton R goes on sale in March. It is designed to evoke both the retro-feel and flavour of the T100 as well as be the most practical of the three Bonnies. It features wire-wheels and stickering for the former and an upright riding position, riding modes, standard heated grips (irreverent to most of India, admittedly) and more towards the latter. The T120 gets a couple of very cool inspiration kits that should be priced starting Rs 1 lakh-odd to allow factory-class customisation too.
Engine: 1200cc 8-valve parallel twin
Performance: 105Nm@3,100rpm, Horsepower not revealed (CHECK), WEIGHT PLEASE ADD
Price: Rs 8.7 lakh ex-showroom Delhi
Availability: Bookings open now
More specifications here
Triumph launches Bonneville T120 in India at Rs 8.7 lakh
The Yamaha MT-09 is part of a new family of Yamahas that the world has received rather well. They're powered by three-cylinder engines which are designed to be punchy and and characterful while the motorcycles are designed to be affordable. Yamaha surprised everyone with the launch of the MT-09 at the Auto Expo 2016, priced at Rs 10.20 lakh ex-showroom Delhi. The MT is regarded as both the most affordable as well as most involving middle-weights in many tests and we cannot wait for test it. We do wish Yamaha India had put the motorcycle in CKD production which should dropped prices by about 30 per cent, making it amongst the best middle-weight value deals of all. That said, the price Yamaha has managed despite the CBU status is insane - the MT is the least expensive CBU now on sale in India, beating the Indian Scout.
Engine: Liquid-cooled three-cylinder 847cc
Performance: 115PS@10,000rpm, 87.Nm@8,500rpm, 191Kg (ABS)
Price: Rs 10.20 lakh ex-Delhi
Availability: Now
More specifications here
Yamaha launches MT-09 in India at Rs 10.2 lakh
This story doesn't include motorcycles like the Triumph Thruxton R and Honda Africa Twin which were announced but either prices or launch plans have not yet been confirmed. We will, naturally, be keeping an eye on developments on those, stay tuned.
Triumph to launch Thruxton R in India
Honda Africa Twin unveiled, to be launched in India
For more updates on the Auto Expo 2016, click here
To stay at the cutting edge of automotive news in India, follow us on Twitter (@odmag) or on Facebook (facebook.com/odmag). Or download our app from the iOS or Android app stores today
Price (Ex-Delhi)
Starts Rs 16,01,500
Price (Ex-Delhi)
Starts Rs 42,15,000
Price (Ex-Delhi)
Starts Rs 12,69,500
Price (Ex-Delhi)
Starts Rs 12,15,800
Price (Ex-Delhi)
Starts Rs 7,45,000
Price (Ex-Delhi)
Starts Rs 9,97,600
Price (Ex-Delhi)
Starts Rs 10,55,354