2016 Auto Expo: 110PS Tata Sport showcased
Tata Motors has showcased the brand new Sport hatchback based on the Bolt at the 2016 Auto Expo. Tata Motors has always made a performance oriented version of their popular hatchbacks, but they usually never put it into production. We have seen Tata coming up with concepts such as the D90.  However, this time they seem quite certain about getting this one into the showrooms.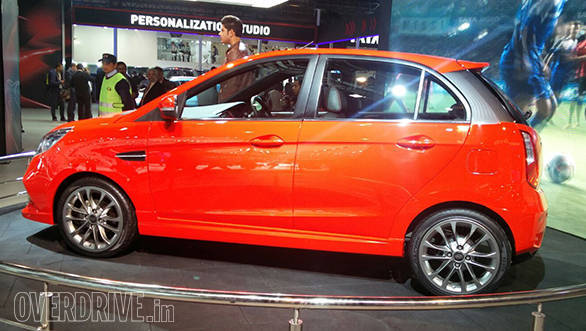 Externally, the Tata Sport looks like the Bolt, save for a couple of changes. The Tata Sport gets a sporty chiseled front bumper with a black mesh, low profile 15-inch matte Greg alloys, side skirts, a scooped rear bumper and a twin chrome tipped exhaust. The interior of the Tata Sport gets red stripes and more distinguishing details from the standard version.
More importantly, this one will be a performance based model that is powered by the same 1.2T turbocharged petrol motor that has been tweaked to make 110PS between 5,300 to 5,500 rpm and 170Nm of torque between 3,000-3,800 rpm. This motor will be mated to a five-speed manual transmission. The suspension setup has been lowered and it now has a ground clearance of 140mm.
For more from OVERDRIVE on the 2016 Auto Expo, click here
To stay at the cutting edge of automotive news in India, follow us on Twitter (@odmag) or on Facebook (facebook.com/odmag). Or download our app from the iOS or Android app stores today