2016 Audi R8 LMS Cup: Martin Rump takes a lights to flag victory
In the last race of the second round of the 2016 Audi R8 LMS Cup held in Thailand, it was 20-year old Martin Rump took a fine win. Rump had a DNF yesterday in Race 1, but was untouchable once the race started. Behind him were Alessio Picariello and Jan Kisiel in second and third positions respectively, making it an all-young drivers podium.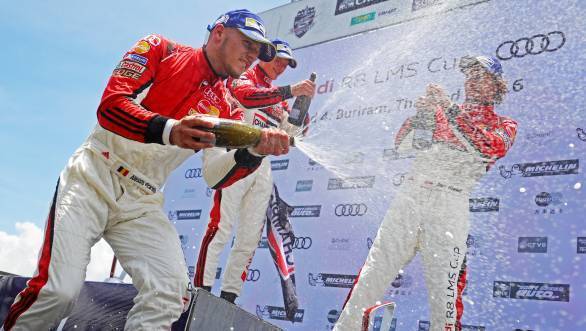 Martin Rump, Alessio Picariello and Jan Kisiel celebrating on the podium of Race 2 of Round 2 of the Audi R8 LMS Cup at the Chang International Circuit
Alex Yoong, who won Race 1 yesterday, settled for 5th position as he was swiftly overtaken by Picariello. This despite the latter carrying 35kg ballast. Picariello currently leads the driver standings with 65 points with Yoong right behind at 62 and Rump with 61 points.
Rump set a blistering fast pace throughout the race. His pace was evident from the fact that at one point, Picariello, who was tactful enough to get past Yoong and Kisiel, was nearly 7s off the Estonian's time. That being said, unlike yesterday, today's grid was widely spread out. Yoong who was trying to overtake Kisiel was outpaced by Marchy Lee. Yoong though defended his 5th position even when under pressure from a fast charging Ryo Ogawa.
Picariello currently leads the Audi R8 LMS Cup championship
Indian racer Aditya Patel who started from 7th position, was hit from behind by team-mate Rahel Frey in the first lap. Patel's car was damaged with the fender eating away the tyres. After five laps, Patel had to retire to the pits and had to settle with a DNF. Frey was given a 30s penalty.
In the Amateur cup, Jeffrey Lee scored the win yet again. He was flanked on the podium by Alex Au and local racer Bhurit Bhirombhakdi. Daniel Bilski did an encore from last night and clinched top honours in the Masters Cup.
The Audi R8 LMS Cup now moves onto the Sepang race circuit in Malaysia on August 13-14, 2016 for the third round of this season.
Price (Ex-Delhi)
Starts Rs 2.55 Crore