2016 Asian Karting Championship: Shahan Ali Mohsin wins the Micro Max title
Shahan Ali Mohsin from Agra has won the Micro Max title in the 2016 Asian Karting Championship. This comes after his a tough weekend at the season finale of the 2016 Asian Karting Championship at the Sepang Circuit in Malaysia, last weekend. Mohsin started the round with a five-point lead over his rival Hayden Haikal from Malaysia, in the Micro Max category. Unfortunately, just ahead of the race weekend, Mohsin was diagnosed with a case of food poisoning which forced him to sit out the first two days of practice.
Despite, the administration of prescribed medicines, his condition didn't seem to improve and his contention in the final round was uncertain till the very end. However, after sufficient rest Mohsin managed to make it for the practice sessions on Saturday and at qualifying, he secured pole by two tenths of a second.
In both heats, he finished a safe second behind Amer Harris, who although not contending for the overall title, was still fighting hard for the race win. In the semi-final race, Mohsin started second from the gird while Haikal was at P3. Again, the battle for first place was between Mohsin and Harris. But it was Harris that took the win, with Mohsin at second, ensuring he didn't end up with a DNF. Haikal meanwhile, finished over four seconds behind him.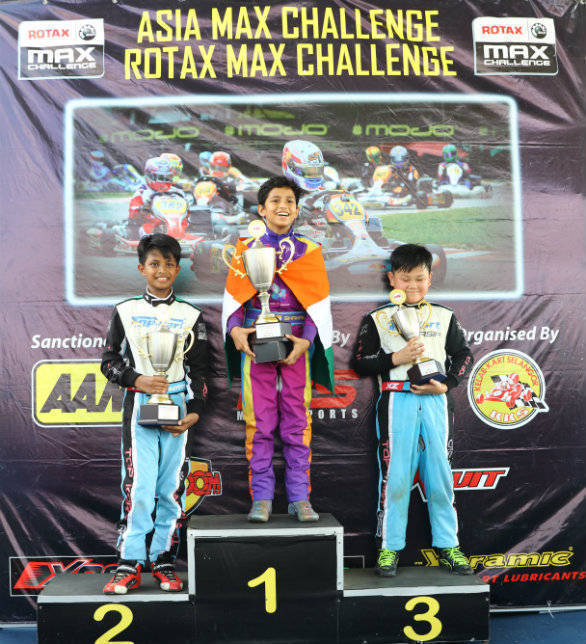 In the final race, Mohsin, Harris and Haikal were in constant battle for first place with a few bumps and nudges every now and then. Finally, it was Harris who took first, while Haikal and Mohsin finished second and third respectively. However, thanks to his consistent performance throughout the weekend, Mohsin took the overall win by four points, giving him the overall title.
The 12-year old will now return to India to compete in the JK Tyre National Rotax Max Karting Championship. The final round is scheduled to be held on September 25 and Mohsin is currently leading in the Micro Max category.