2015 Volvo XC90 unveiled
Volvo have just revealed their future and it comes in the shape of a big brawny SUV which we in India aren't too familiar with but will begin in the days to come. That's because there is no ignoring this all new XC90, in sheer design terms it's got what every SUV needs, tremendous street presence.
This new Volvo sits at the premium end of the market and true to form offers several innovative firsts for Volvo. The biggest new change is the lightening of any baggage of the past. You see previous generation Volvo's always carried something away from their previous owners. So for the first time in many years this new XC90 is very much a pure Volvo, no Ford and its Premier Automotive Group fingerprints or DNA have been left behind.
The other radical change is the styling. We're not sure we entirely like it but I'm sure the are those who would beg to differ. And that debate is a good thing because it at the very least means Volvo's do get noticed. There is a new grille leading things from the front and along with it several new design changes elsewhere. Detailed exterior flourishes give it the necessary attention it needs as well as elevate it to loftier perch than before.
This new change in position is a bit of a gamble if you ask me, because according to Lex Kerssemakers, senior vice president Volvo Car Group, this SUV could make or break Volvo. It might seem more prudent to have introduced a new XC60 which would have assured them of volumes at the very least. But the intent was to showcase the best Volvo could draw from their design, engineering and safety value propositions and the flagship XC90 became the ideal canvas.
So to complement that change in position you also get what we easily think are one of the most stunning interior designs to grace a car. With the intent to minimize activity inside this cabin almost all the buttons on the dash board have been replaced by a single touch screen in the shape of a tablet. It controls all functions and then some. And just in case there are those like us who believe touch-screens in a car are an unnecessary distraction, this SUV also takes voice control to a whole new level.
Another fantastic touch is the crystallized gear knob and the bejeweled drive mode selector and engine start stop button. That last element is a fairly large knob unlike the simpler more practical push button found in most cars buts it's just a sensational item to have in your car that we really shouldn't be complaining. The cabin is spacious and offers seven seats across three rows. The third row however definitely is a compromise and we wouldn't want to be stuck in there for too long. We expect to see a long wheelbase version in the immediate future and that we feel should resolve that space issue for the third row.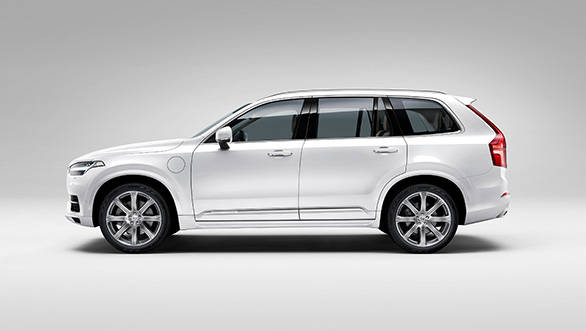 This new XC90 also has a whole new architecture underpinned by what is known as the Scalable Product Architecture or SPA. It allows Volvo to build several permutations and combinations, scaling up and down their model chain at minimal cost. On to the engines and another radical change is the departure of anything with more than four cylinders. Henceforth all Volvos will be powered by four cylinder engines and there is some development happening to downsize to three cylinder engines for future Volvos.
The engines India will get is obviously going to be the diesel, but there is a 185 and a 220PS diesel engine on offer and which of these makes the final cut isn't entirely clear yet. All these engines are mated to 8-speed automatic transmissions. The idea here is to reduce emissions and enhance efficiency and a turbocharged diesel makes a compelling case for itself.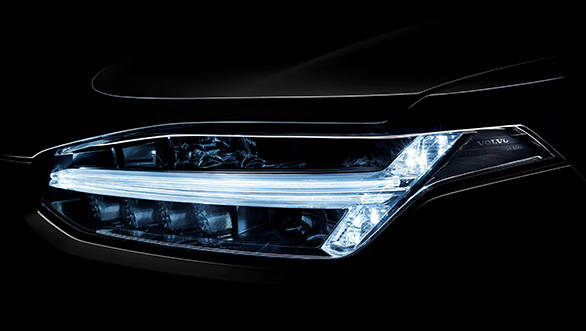 And finally there is no ignoring the safety elements in this SUV. There is a host of active and passive safety elements incorporated but there are also several new features that bring Volvo cars a step closer to their goal of not letting a single person die or be injured in a Volvo, deadlined for 2020.
Another interesting feature is Volvo's idea of cloud computing that will bring all of their cars under a single network umbrella allowing quicker and better communication between cars, the company and workshops. All in all this is Volvo taking their first step towards an autonomous future and in the new XC90, its a big step indeed!
Price (Ex-Delhi)
Starts Rs 80.9 Lakhs