2015 Volkswagen Vento TDI DSG long term review: After 18,537km and 8 months
The purpose of long-term cars are simple. In its most basic sense, long-term tests are intended to find out what it would be like to actually own, live with and drive every day. Of the many cars that I have had as long termers though, the Vento has been the perfect blend of practicality and driving pleasure.
Since this will be the last update about the Vento before it goes back, let me tell you what I have learnt about this car over the period of almost a year.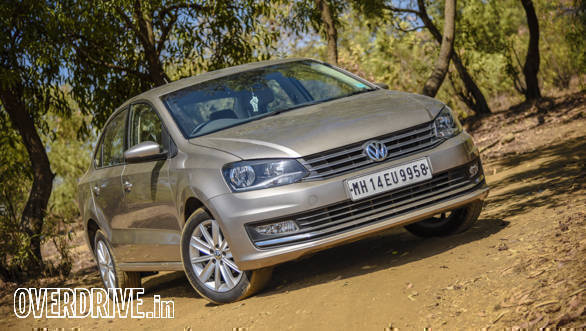 First, the Vento's gearbox/engine combination is nothing short of magic. It manages to deliver excellent performance without ever compromising on economy. Drive it fast and it will still run for 600km before running out of fuel. And if you drive it really carefully, chances are you will see a driving range close to 900km. I kid you not.
Then there is the perfect ride quality and dynamics equation that Volkswagen always manages to find. Usually, most cars tend to lean towards one or the other. The Vento sits smack bang in the middle of the combination. It is as capable as it is comfortable. It can go around a corner pretty well and yet soak up all the imperfections on our roads.
Next, there is the build quality. This is something that the Germans always get right. The Vento feels solid in a way that only these German cars do. The doors close with an elegant "thunk", and the materials insde are all top-notch. It also feels like a car that will stand abuse. Over the period of our test, the only problem the Vento had was a wonky steering rod and that too was thanks to driver error more than anything else. So that is over 11,000km of fast driving without any complaints. I rest my case.
Finally, I love the fact that the car comes with some really neat kit. I love that flat bottomed steering wheel. It always brings a smile to my face. It adds a touch of sportiness that makes you feel all warm and fuzzy inside. Then there are the cornering lamps. You really don't realise how useful these are until you drive up a hairpin infested hill section in the middle of the night.
However, there are some things that I would like changed. To start off, I wish the Vento had a better infotainment system. But I know that with the new centre console unit, that problem has been covered. Then, I hate that it only gets a manual day/night mirror! Highly inconvenient. Next, Volkswagen really needs to look into the jerky kickdowns its DSG 'box does in low gears. And finally, I think that it is about time that the Vento got paddle shifters. For something that is so much fun to drive, the omission is almost a crime.
But for all its faults, the Vento is one car that I will miss terribly. It has been the perfect balance of childish fun and adult responsibility. So, I guess, if I do grow up at some point in life, I'd be making a beeline for a Volkswagen dealership.
Price (Ex-Delhi)
Starts Rs 8.78 Lakhs