2015 Geneva Motor Show: Nissan teases the Sway concept hatchback
The 2015 Geneva Auto Show is almost here and as manufacturers ready their showstoppers for the annual event, Nissan has just released a teaser image of its new concept hatchback, the Sway.The image reveals a radical, sharp and modern design approach by Nissan, that seems to follow the Japanese company's design language, which was seen in earlier models like the Juke and Qashqai. The Nissan Sway concept is believed to be the platform for Nissan's new generation hatchbacks including the  next generation Micra, that also sells in India. The car in it's present guise has a cute, rounded design, while the new Sway's design is in stark contrast to the current Micra.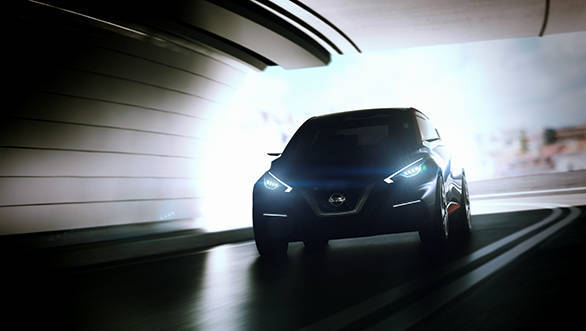 This image of the  Sway concept reveals design cues like the boomerang shaped DRLs above the headlamp, a prominent front grille with a largish Nissan logo in the centre and the bonnet which has a sharp crease line that merges into upper portion of the  front fender.The Nissan Sway concept hatchback will be showcased to the world on March 3, 2015 at the Geneva Auto Show and it would interesting to see how Nissan styles the new generation Micra, based on this concept .
THIS SWAY FOR EXCITEMENT - NISSAN AT THE 2015 GENEVA MOTOR SHOW
Innovative design and product planning gave birth to Nissan Qashqai and Juke, two of the biggest automotive success stories of recent years. What would happen if the company applied the same radical thinking and quality standards to one of the most important sectors in Europe: the small hatchback? To be unveiled at the 2015 Geneva Motor Show, Sway is a glimpse at how a future generation of small Nissan models could look if the company's striking new design language was applied to a European hatchback. The car will be revealed during Nissan's press conference on March 3rd at 11.30a