2015 Formula 2.0 Eurocup: Jehan is Rookie of the Race at Nurburgring
Jehan Daruvala seems to be making it something of a habit of racking up these Rookie of the Race trophies. This time around it was when he was guest driver at the 2015 Renault 2.0 Eurocup. In what was his first ever outing at the fabled 'Ring, Jehan put in a terrific performance and impressed, especially since he is in his first season racing cars.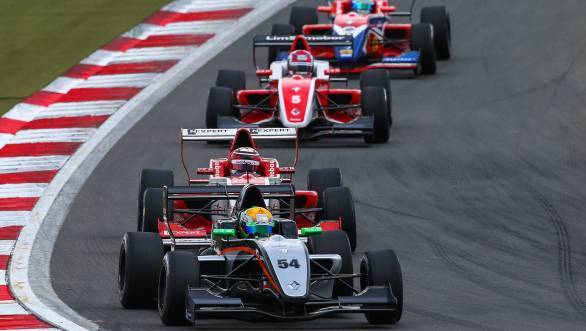 Jehan on his way to a seventh place finish in Race 1 of the Formula Renault 2.0 Eurocup at the Nurburgring
Things weren't easy from the word go, however. Jehan had a tough practice session with timings that were six-tenths off the pace. But qualifying proved to be better, with the young Indian driver putting his car ninth on a 35-strong grid. When the lights went out, Jehan made a terrific start, first getting past Kevin Jorg, and then making a brilliant move to get past Ignazio D'Agosto on turn 1. This put him in seventh place, which is the position he was in when he managed to cross the finish line. This meant that Jehan was able to join race winner Jack Aitken and second-placed Ukyo Sasahara on the podium, to collect his Rookie of the Race trophy.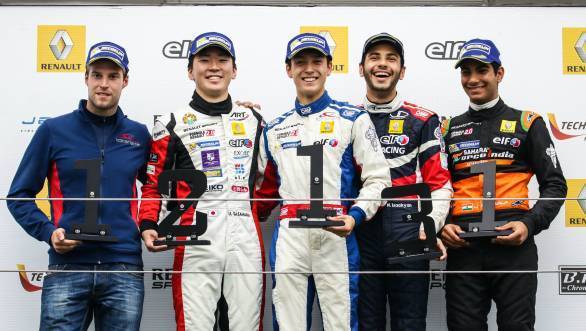 Race 2 proved to be forgettable. Qualifying saw Jehan only manage 24th out of the 35 cars on the grid. Torrential rain at the start meant that Jehan had to start behind the Safety Car. On the opening lap, behind the Safety Car, Jehan lost all drive in fourth gear, which meant he had to retire from the race. All in all a mixed weekend. But like he says "It's part and parcel of the sport".
Jehan will compete in another round of the Formula Renault 2.0 Eurocup also being held at the Nurburgring, this weekend. We'll keep you posted on how he fares.