2015 Audi RS6 Avant to be launched in India on June 4, 2015
Audi India is out to make a brave move. While station wagons don't really catch the fancy of Indian customers, Audi is planning to bring one to our market. The difference is, this station wagon can manage a top whack of 305kmph and while doing so, it can manage a 0-100kmph sprint in 3.9s! The station wagon in reference is the Audi RS6 Avant and it's coming to India next month.
Powering the Audi RS6 is a 4.0-litre TFSI biturbo V8 petrol engine that produces 560PS of power and 700Nm of torque. An eight-speed tiptronic transmission feeds the output to the quattro system. The car sits on 20-inch wheels by default, with the option of 21-inchers as well.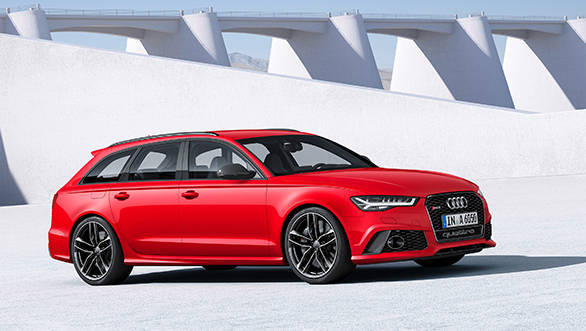 When Audi updated the entire A6 line-up last year around the Paris Motor Show, the RS6 also received the tweaks and the upgraded equipment. So the RS6 gets the Matrix lights aka adaptive LEDs which will certainly make it to the India-bound model as well. The RS6 will also preview the new styling that you can expect on the A6 and S6 facelifts later this year, which includes the single-piece grille, the new LED DRLs and the revised theme for the taillights.
The Audi RS6 Avant is scheduled to be launched in India on June 4, 2015 and it will sit over the S6 in the line-up, so expect the pricing to be between Rs 1 crore and 1.25 crore. Stay tuned for more updates.