2014 WRC: Ogier wins Rally Portugal
Volkswagen scored a record equalling eighth successive WRC win when Sebastien Ogier pulled away from Ford driver Mikko Hirvonen, in a masterly display of effective tyre management, on the Vodafone Rally of Portugal. There were two major stories, Hirvonen reviving former glories by leading on Day 1, while two of the three Hyundai drivers scored fastest stage times, with their driver Dani Sordo momentarily leading the rally in the early stages. Nasser Al Attiyah won WRC2 while Peugeot Academy driver Stephane Lefebvre won the joint WRC3 and Junior WRC categories in a Citroen DS3 R3T. VW, Ford and Citroen all scored podium results, with drivers from all four teams winning stages. The new Drive DMack series got off the ground with victory for Estonian Sander Parn. Heavy rain storms and flooding before the rally created tricky conditions and led to pacenote problems for many crews which increased the number of top drivers who went off the road.
Celebration for the Volkswagen team as Sebastien Ogier claims victory at Rally Portugal
All the while the Portuguese fans hope the event will soon return to the stages in the north of the country, the WRC format suits the compact and demanding stages in the south of the country, in the sparsely populated Algarve. As a concession to the wishes of the series Promoter the rally officially starts in the country's capital Lisbon, with a downtown tarmac special stage, before a long drive down south. The rain was so heavy that recce had to be rescheduled, leading to a tight schedule at Faro before the event got under way. VW got off to a promising start with a 1-2-3 on the Lisbon stage but running first car on the road, in progressively drying conditions, was a handicap for front runners Ogier, Latvala and Ostberg, enabling Sordo to win stage 2 and then to take the lead on stage 3, the first time a Hyundai driver had achieved this since 2001. The Spaniard fell back on the less muddy stage 4, saying the more normal the conditions, the more he envied the extra power of rival cars but on stage 6, a repeat of stage 3, it was the turn of Sordo's Hyundai teammate Neuville to win a stage.
Ogier's win at Rally Portugal was also VW's eighth consecutive WRC victory
Going into Day 2 the rally had already taken shape. Ogier's teammate Jari-Matti Latvala had gone off the road (causing a remarkable amount of damage, but which was repaired overnight) and the driver of VW's #2 team car Andreas Mikkelsen was seriously struggling with pacenote problems. In the Citroens, Mads Ostberg's teammate Kris Meeke on his first time in Portugal was having a nightmare rally, performing even worse than Mikkelsen, and eventually going off the road, damaging the car too seriously to be allowed to carry on. At M-Sport Mikko Hirvonen's teammate Elfyn Evans crashed, also causing midnight work for his team. M-Sport's #2 team driver Robert Kubica also went off, spectacularly blocking the route and causing the stage to be cancelled for later runners. Only Hyundai's drivers had stayed on the road, although Juho Hanninen had a puncture-filled event. Through all this Ogier was managing his pace, spending most of the second day just in front of Hirvonen, who on the last stage of Day 1 took the lead, with Ott Tanak second and Ogier third.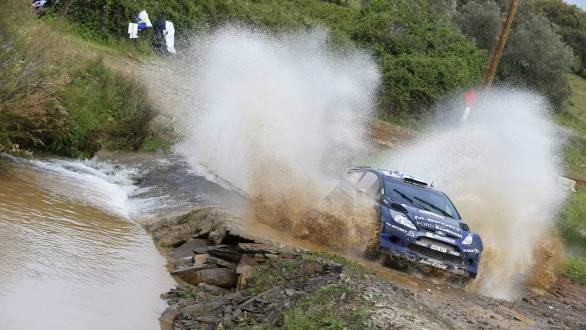 Second placed Mikko
Hirvonen held the lead for one more stage while Ogier planned his attack based on the long stage venue 9/12, in which a particularly muddy stretch of road gave him the chance to attack. He regained the lead first time round and extending this to over 20 second the second time. Tanak's life close to the leaders was short-lived as he then rolled his car, with rally-terminating damage, and like with Kubica caused the stage to be curtailed. Kubica had restarted the event on Day 2, only to crash once again, also terminally. With Hirvonen desperately making the best use of the limited quantities of soft tyres, he could not match Ogier's carefully planned tactics and settled for second place, his best result since this event a year ago. Ostberg was now settled into third place followed by Hyundai drivers Sordo and Neuville.
Hyundai's hopes of a high overall placing were getting dashed. At the end of Day 2 fifth placed Neuville damaged the suspension and lost four places. Fourth placed Sordo stopped soon after he left the restart on Day 3 when a driveshaft failed on a motorway and he had to retire. Neuville recovered to sixth place but then his transmission failed and he had to drive in two-wheel-drive, dropping him to seventh behind the privateer Martin Prokop. Meanwhile a new challenge was appearing, this was Henning Solberg, once again driving on Pirelli tyres. He reached as high as fourth place before suffering a rear suspension problem and settled for fifth, behind Norwegian Mikkelsen, who was fast regaining his confidence. In the end the Norwegian drivers came 3-4-5.
Ogier was modest. "I was a bit lucky running first car on the road. Usually running first is a disadvantage but this time it was not as serious as it could have been. I was also lucky because I did not make the best tyre choice that day. I was always trying not to be aggressive but to drive cleanly." Sounds simple. No changes in positions in the Manufacturers' standings, Volkswagen leading their nearest rivals Citroen with nearly double the number of points. Ogier now leads his teammate Latvala by 30 points with Ostberg third. Mikkelsen rose to fourth equal with Hirvonen.
Third place at Rally Portugal went to Citroen driver Mads Ostberg
Michelin runner Nasser Al Attiyah won the WRC2 category in a brand new Fiesta RRC beating Jari Ketomaa's DMack shod Fiesta R5, the reigning Junior WRC Champion Pontus Tidemand in his prize-drive R5 and Karl Kruuda's old normally-aspirated Fiesta S2000. Ketomaa and Al Attiyah swopped the lead on the first two days. Ketomaa started to have some rear brake trouble at the end of Day 1 and then on stage 11 had power steering trouble. The Finn stopped in the stage to reset the system electronically which brought his lead down to 2.2 seconds and on the following stage Al-Attiyah went into the lead which he held to the finish. Fords dominated the results taking the top seven places with RRC, R5 and S2000 cars. The best non-Ford was Valeriy Gorban's Mini in eighth while the best Production Car finisher was Max Rendina in his Evo X. 18 WRC2 cars started and the only retirements were for eighth placed Hankook driver Marty McCormack, who went off the road on the penultimate stage, Fredrik Ahlin who did the same while another M-Sport alternator failure ended the run of sixth placed Julien Maurin's Fiesta RRC before the final stage. An amazing number of 14 Fiesta R5s started the event (but no Peugeots or Citroens), and a total of 42 Fiestas of various kinds were competing, making up half the field. This was a special occasion for Al Attiyah's codriver, Giovanni Bernacchini. It was forty years ago that his codriving father Arnaldo won the rally outright, his only WRC victory, in a Fiat Abarth 124. In the championship Yuriy Protasov (Michelin) retained his lead despite finishing out of the points, 15th in the category, still ahead of Bertelli (Pirelli) and Kruuda (Michelin). Second place for Ketomaa saw him rise to fourth, all in R5 cars on a variety of tyre supplier. While Al Attiyah's category victory brings him straight in at fifth (RRC), Max Rendina sixth (Production Cup) and surprisingly only one driver of a normally-aspirated S2000 car represented in the standings, Martin Kangur
The Junior WRC Citroen DS3 R3T completely dovetailed with the WRC3 category and was won by the Peugeot Academy driver Stephane Lefebvre who inherited he lead when Alastair Fisher crashed after leading for almost two days. Eventual second place went to Christian Riedemann who passed Martin Koci on the penultimate stage. After initially leading the category Simone Campedelli lost a stage after a brake disc broken in day two, finishing fifth. Lefebvre now leads the Junior series and is joint leader of WRC3 with Quentin Gilbert, who competed in the Drive DMack series on this event.
The Drive DMack Fiesta Trophy made a bold debut, benefitting from the experience of M-Sport running similar Fiesta R2 cars in the Academy and the Junior WRC championships. Jose Suarez led for half the event but was delayed with suspension damage and finished fourth, in front of fellow Spaniard Yeray Lemes who had similar damage. In line to win was Quentin Gilbert but he was eliminated in a road section collision with an organisers' vehicle. This gifted the lead to Tom Cave, but two stages from the finished Cave punctured and the winner finally was Sander Parn. Cave was second ahead of Ghislain de Mevius, son of the twice Group N Cup winner Gregoire. Max Vatanen, son of former world champion Ari, twice went off the road and did not finish.