2014 Kawasaki Z800 Performance Edition launched in Europe
The Kawasaki Z800 gets the performance edition treatment. This new edition has been launched in Europe. It comes with a smoke tinted fly-screen which offers better aerodynamics and reduces wind pressure. A few other cosmetic upgrades include the gel-resin tank pad which protects the tank from scratches and a new seat cover. The pad is made of a semi-transparent material which allows the colour of the bike to show through and carries the bike's moniker. The seat cover is different from the one available on the standard Z800 and adds to the overall aggressive appearance of the bike.
The 2014 performance edition gets the same exhaust as the standard Z800 but with the Akrapovic silencer
The exciting part of the performance edition however is the bolt-on Akrapovic silencer. It lends the bike a more aggressive grunt and a sportier look. The exhaust system is still the stock Kawasaki one from the standard Z800. The Akrapovic unit is completely road-legal and comes with a two-year warranty. Kawasaki hasn't provided realistic figures for the performance edition yet because the 806cc liquid-cooled, four-stroke, 4-cylinder engine produces 113PS of power at 10,200rpm and 83Nm of torque at 8,000rpm - exactly the same as the figures of the standard Z800. The bikes even weigh the same at 229kg while the performance edition runs a six-speed gearbox.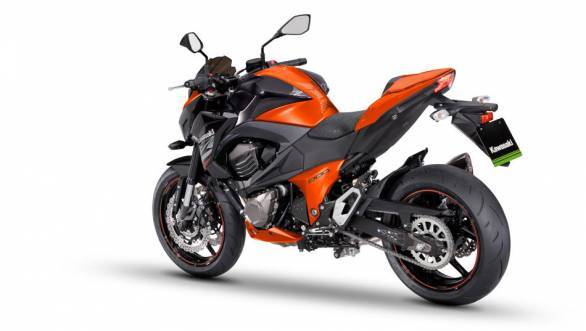 The Z800  gets a new seat cover which adds to the aggressive appearance of the bike
The bike will be available in three colours, Candy Flat Blazed Green, Metallic Spark Black and Candy Burnt Orange with Metallic Flat Spark Black. It hasn't been decided if the bike will come to the Indian market at this time. Prices for the bike are not listed as of now but one can expect that the performance edition to be around $1370 (approx Rs 80,500) dearer than the standard bike which costs Rs 8.7 lakh.