2014 Indian Chief revealed, coming soon to India
Having unveiled the Thunderstroke 111 engine (to read that  story click here) earlier and after putting out a slew of teasers and advertisements,  Indian Motorcycle has finally revealed the new 2014 Indian Chief at the annual motorcycle extravaganza at Sturgis, USA.
Indian Motorcycle has had a to rocky history and was recently acquired by Polaris Industries, which makes ATVs and also owns Victory, which is regarded as the only motorcycle brand to have managed to be in the cruiser space and survive against the might of Harley-Davidson in the USA.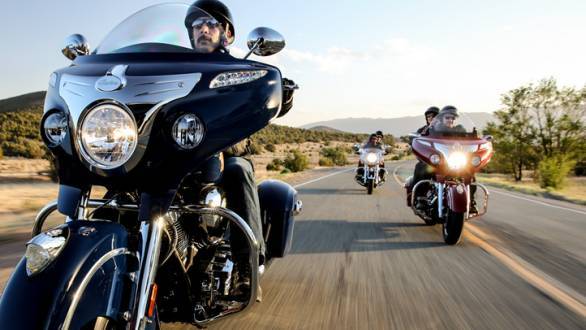 The iconic Indian Chief is coming to India
Under Polaris' direction, the company started with its new engine. The company then spoke to its  target audience and discovered that the Chief is the most remembered Indian model. When that was taken into consideration, with the fact that heavyweight cruisers and baggers (Americanese for bikes for luggage, aka tourers) are in demand, it became clear, says the company, that the Indian Chief had to be the starting point of Indian's most promising resurrection in living memory.
The Indian Chief is going to be a three motorcycle range to begin with. All three will be powered by the brand new Thunder Stroke 111. The name is derived from its 111 cabin inch displacement (1819cc) which allows the motorcycle to have 161Nm of maximum torque. Visually the engine draws upon Indian's engines, but the new engine is thoroughly modern. The 49 degree V-twin is matched to a 6-speed transmission and Polaris says has been tested over 3 million road and lab kilometres for reliability.
The Chief Classic
The Indian Chief Classic
The Chief Classic is priced at $18,999 or Rs 11.61 lakh (US price). The bike wears a deeply nostalgic look including the fundamental valanced fenders, the saddle is genuine leather, there are spoke wheels, the instruments are on top of the tank and there is the illuminated Indian head on the front fender, officially called the "lighted war bonnet".
The bike may look like it belongs to another time but the equipment is thoroughly modern. It gets keyless ignition, ABS, cruiser control, throttle-by-wire and the aluminium frame with the integrated air intakes.
The Chief Vintage
The Indian Chief Vintage
Add $2,000 (Rs 1,20,000 approx) and you get the $20,999 Chief Vintage. The company calls this is a soft Bagger and that means genuine leather bags which feature quick release mountings. Indian also adds a leather fringe, chrome fender tips and a quick-release wind screen. This makes a Vintage a very practical Indian in how you can quickly switch between urban, leisure and full-on touring roles.
The Chieftain
The Indian
Another $2,000 (Rs 1,20,000 approx) is the $22,999 Indian Chief Chieftain, the top model at the moment. The Chieftain gets that odd 'model name'-'variant name' juxtaposition, integrated driving lights (the company says it wanted to have them in place because most people would add these, and making them standard allows Indian to control their weight placement) and a powered windshield. Indian says a powered windshield as never been done with a fork-mounted fairing before. The Chieftain is a full-on tourer in role which means hard saddlebags with remote locks and quick release mounting, an audio system with Bluetooth and a tyre pressure monitoring system.
CEO speak
"When we acquired Indian Motorcycle two and a half years ago we set out to capture the heart, soul and legendary heritage of this iconic American brand and then infuse it with unparalleled design, engineering and state-of-the-art technology," said Scott Wine, CEO of Indian Motorcycle parent company Polaris Industries Inc.
"On Saturday night we revealed three stunning new Indian Chief models that represent the results of our journey and the future of this brand. It was a triumphant day for all of us, and I know motorcycling fans around the world proudly join us in celebrating Indian Motorcycle and the realization that choice in American motorcycles is here to stay."
India plans
Overdrive had revealed that the Indian Chief is coming to India soon
OVERDRIVE broke the story that Polaris was planning to bring motorcycles to India in 2014 and that this motorcycle, the all-new Chief would lead the charge. We expect to see a completely new line of dealerships, and they should appear in the metros while the motorcycles will be imported direct as CBUs from the Polk plant in the USA. An assembly operation cannot be ruled out, but first, the Indian motorcycle range has to be fleshed out with cheaper models that will make sense in terms of sales volumes post assembly.
To give you an idea of prices, we used the Harley-Davidson Road King. The Road King lists for $17,699 in the USA and sells here for Rs 22.81 lakh. By the same logic and margin etc, the Chief range should begin at about Rs 24 lakh and go up to about Rs 26 lakh. However, believe these figures with caution: these are early days and these prices are only to give you an idea of what to expect and could be wildly inaccurate.
Speaking at the launch event at the site of the new Motorcycle Museum in Sturgis, Indian motorcycles have indicated that they intend to be an American motorcycle brand, an iconic motorcycle brand but not necessarily a cruiser-only brand and the name Indian and its history certainly allows them that latitude far more than Harley-Davidson, for example, has.
America has long struggled to have an American motorcycle to boast about outside of Harley-Davidson and history is littered with brands that tried and ultimately didn't succeed. Some disappeared because they didn't find enough traction, others failed because Harley has a death grip on the cruiser market in the US, selling about half the motorcycle sold there. Indian arrives in this melee with a great history and name on its side, a recognisable form for its motorcycle, a fan following, and now, a motorcycle that promises to be a truly great as a riding experience. This should make for a great comeback story for Indian.
Price (Ex-Delhi)
Starts Rs 25,53,000
Price (Ex-Delhi)
Starts Rs 21,29,500