2014 General Elections: Political promises on infrastructure in India
India is half way into the General Elections 2014, and depending on which part of the country you are in, some of you will still have to cast your vote.
If, like us, infrastructure is something that strikes a chord with you then we have put together a list of promises made by the three parties in their manifestos.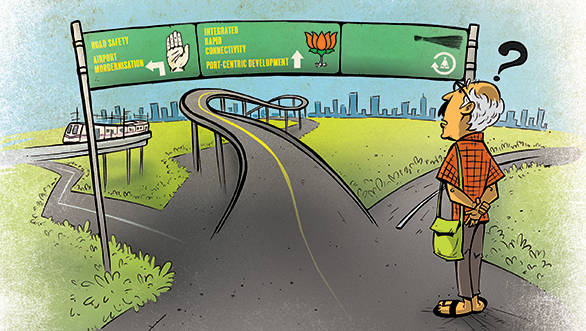 Illustration: Chaitanya Surpur
Both Bharatiya Janata Party (BJP) and Congress have promised a stronger port and railway network and reduction of dependency on private vehicles, while Aam Aadmi Party's (AAP) manifesto fails to even mention road and infrastructure issues. This is strange considering most of the newly found party's politics have taken place on Indian roads.
Let's take a look at Congress' pre-election promises first. The most significant mention here is dedicated to road safety. The incumbent party has promised to launch a National Road Transport Safety Programme, with an aim to halve road accidents in five years. Congress has also pledged to spend $1 trillion to create an extensive and world class transportation network, including rapid road transport which includes modernisation and expansion of current roadways, more efficient railway network, stronger freight corridor and world-class airports.
BJP, in its pre-election promise, has pledged to develop infrastructure focusing on the future. This includes planning roads and public transport system keeping in mind the growth in the country's population as well as social and economic activities. The manifesto declares that India should no longer be limited by its infrastructure and states that all the ongoing projects - freight corridors and National Highway construction and airport modernisation - will be completed without any further delay.
The party also promises to create a port-led infrastructure growth and an integrated public transport system that includes roads, railways and waterways to reduce the dependence on personal vehicles for transport, thereby, reducing cost, time to travel as well as a reduction in emissions.
Both manifestos have some good points. We especially liked the Congress' safety programme and BJP's think future agenda. So pick wisely.