2014 Ford Fiesta launched in India at Rs 7.69 lakh
Ford India has launched the new Fiesta at a starting price of Rs 7.69 lakh ex-Delhi. There are three trims on offer- Ambiente, Trend (Rs 8.55 lakh) and Titanium (Rs 9.29 lakh). Bookings and deliveries start immediately. In comparison, the new City and Verna diesel prices start at Rs 8.43 lakh and Rs 8.35 lakh respectively.
Ford's 2014 Fiesta comes with the company's 'Kinetic 2.0' design philosophy. This includes a very Aston Martin-ish looking grille replete with chrome outlining, bigger fog lamps with bezels around them and redesigned bumpers. 15-inch steel wheels are standard with the Titanium getting a new alloy-wheel design. The rear has smarter looking longer lamps as well.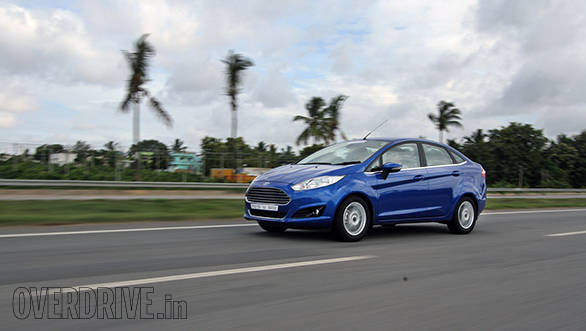 Inside the cabin, Ford has updated the Sync system with AppLink which lets the infotainment system read out your text messages, answer phone calls, navigate you to places etc. The fabric is also new. Additionally there are also automatic rain sensing wipers and auto head lamps.
The Fiesta was all about being a driver's car and the new one isn't a far departure from the outgoing car. The dynamics are spot on while the ride quality is adequate. There is only one engine on offer- the 1.5TDCi diesel making 91PS of power and 204Nm of torque. It is mated to a 5-speed manual transmission. Ford claims a lofty 25.01kmpl fuel efficiency from the new Fiesta.
How well does the new Fiesta hold its own against the City and Verna? We will find that out soon.
Read our first drive of the new Fiesta here
2014 Ford Fiesta launch press release
      Stylish, redesigned exteriors and enhanced interiors accentuate 2014 Ford Fiesta's premium appeal
·         The 2014 Ford Fiesta will be available in three trims in diesel with a compelling starting price of Rs. 769,000*
·         Powered by Ford's proven 1.5 L Duratorq TDCi diesel engine, the 2014 Ford Fiesta offers outstanding fuel economy of 25.01 Km/L*  coupled with excellent drivability
·         Ford upgrades its hands-free connectivity system with segment-first smart technology – SYNC® with Ford AppLinkTMand Emergency Assistance (EA) via SYNC®
New Delhi, June 19, 2014: In its quest to Go Further in delighting customers, Ford India today introduced the 2014 Ford Fiesta with a stunning new look, plush interiors and several segment-first features. Redefining expectations from a premium sedan, the stylish new 2014 Fiesta will also boast of the award-winning SYNC® with Ford AppLinkTM – a smarter, hands-free in-car technology to keep drivers safely connected while on the road.
The 2014 Ford Fiesta will be available in three trims – Ambiente, Trend and Titanium, all powered by the  proven 1.5 L Duratorq diesel engine which is tuned to deliver razor-sharp performance, addictive drivability and outstanding fuel efficiency of 25.01 Km/L*.
Offering exceptional value to customers, the 2014 Fiesta's entry-level trim Ambiente Diesel will be available at Rs. 769,000*, followed by Trend Diesel at Rs. 855,720* and top-of-the-line Titanium Diesel at Rs. 929,449*.
''The Fiesta has a very special role in Ford India's product portfolio and is for the pure driving enthusiasts who are known for their distinct choices and opt for nothing but the best,'' said, Nigel Harris, President, Ford India.
"2014 Fiesta, with its best-in-class driving dynamics, design and in-car technology, is a complete package that delivers much more than the expectations of customers in this segment. What's better is its attractive price, making our premium sedan an even more compelling option for discerning enthusiasts," he said.
The 2014 Ford Fiesta stands out from the clutter, providing drivers a perfect blend of connected world and a fun-to-drive experience.
Ford's globally renowned in-car technology - SYNC®, that was first introduced in India with the EcoSport, has been upgraded to SYNC® with Ford AppLinkTM in the new 2014 Fiesta. This segment-first technology offers unparalleled voice control over smartphone applications to owners, thereby ensuring a safer way to access content, entertainment and information on-the-go. The premium sedan will also offer Emergency Assistance (EA) via SYNC®.
"The 2014 Fiesta is a perfect embodiment of the 24/7 connected lifestyle of today's savvy, confident and discerning customers. This premium sedan, with its many firsts and innovative features, brings to its segment clever convenience, outstanding fuel economy, exceptional passenger safety and intuitive in-car technologies. It is set out to elevate customer experience to a new level of engagement and connectivity while on the move," added Harris.
A global trendsetter, the 2014 Ford Fiesta delivers a bold new exterior and elegant interiors optimized for ergonomics. Sporting a host of smart new features such as rain-sensing wipers, auto headlamps and push-button start with smart keyless entry, the car moves up several notches to keep drivers indulged with its clever convenience.
Bold New Exterior, Vibrant Interiors
The 2014 Ford Fiesta is a mélange of aesthetically pleasing and scientifically optimized surfaces that make the vehicle not just look better but also cut through the air with least resistance. Dominated by Ford's marquee trapezoidal front grille, the 2014 Ford Fiesta sports an assertive and confident appearance.
The sleek, laser-cut wraparound headlamps sweep back sharply, making a strong visual statement. The power-dome hood design adds to the assertive appearance of the car. At the back, the tail lamps have been given more detail to be in harmony with the expressive head lamps.
Keeping functionality at the heart of it, the design of the in-car entertainment system is inspired by the logic of the modern mobile phone. Screens, controls and buttons are placed for optimal ergonomic positioning and ease of use.
The sedan will be available in six colour options including two absolutely new ones – Golden Bronze and Smoke Grey.
Even Greater Connectivity
The 2014 Ford Fiesta sets new paradigm for in-car technology. Featuring award-winning SYNC® with Ford AppLinkTM, the new 2014 Fiesta enables drivers to stay safely connected with the outside world. .
The introduction of SYNC® with Ford AppLinkTM makes the 2014 Ford Fiesta a vehicle of choice for discerning customers who are recognized for their penchant for technology. Ford AppLinkTM enables drivers to keep their hands on the wheel and eyes on the road while choosing music, making phone calls and controlling their favorite smartphone applications using simple voice commands. From locating a popular restaurant to staying abreast with cricketing action on-the-move or sharing your location, SYNC® with Ford AppLinkTM will make it possible through its two India-specific apps -- explore by MapMyIndia and ESPN Cricinfo and one global app Glympse. These apps will be available for download on smart phones on Android and iOS platforms shortly.
Ford is making this advanced automotive technology accessible globally to millions of its customers at affordable costs.
Uncompromised Safety
The 2014 Ford Fiesta has been designed to provide high levels of protection and driver support through a range of advanced active and passive safety features. The premium sedan boasts of a rigid body structure which offers uncompromised safety. A large part of the vehicle's structure uses high-strength steel with ultra-strong boron steel reinforcing several key points. Advanced safety technologies such as Electric Power Assisted Steering (EPAS) with Pull-Drift Compensation and the introduction of brand-new rain sensing wipers and automatic headlights reduce the effort while driving by measuring steering input and adapting to changing weather and light conditions. Safety is also enhanced by standard front driver-side airbag and Anti-lock Braking System (ABS) on all variants. These features help customers to remain in control of the car at all times, especially on slippery roads
The 2014 Ford Fiesta's safety offerings include Emergency Assistance (EA) via SYNC® which helps connect vehicle occupants with emergency services following an accident, providing vehicle location and open line communication.
Peace of mind with low Cost- of-Ownership
Years of research, superior materials and the best of engineering bring to the customer a lower cost of ownership with the 2014 Ford Fiesta. The Fiesta is easy-on-the-pocket because of its affordable spares, lower costs of service and repairs. Furthermore, Ford India will offer a 1-year warranty/ 100,000 km to bolster the peace of mind that comes with owning the latest Ford. Customers can extend their vehicle warranty up to three years from date of purchase at affordable rates through Ford Extended Warranty. They can also avail extended packages such as Scheduled Service plans and Total Maintenance plans. Ford's Service Holiday is a customized product offering designed to cover Scheduled Service and Non-Scheduled repairs up to three years.