2014 Dakar Rally Day 2: Peterhansel takes the lead
The second stage of the 2014 Dakar Rally was a stage that threw interesting challenges the way of those courageous men and women and their completely mad machines. The challenges came primarily in the form of varying terrain with sand dunes aplenty that caught out competitors as they braved their way from San Luis to San Rafael.
Stephane Peterhansel heads the car category of the Dakar in the X Raid Mini
While it is still surprise leader Joan Barreda Bort who is the overall leader of the Dakar Rally on his Honda, the battle for the ultimate win could still well be between KTM's Marc Coma and Yamaha's Cyril Despres. However, with Coma finishing the stage ninth overall, and Despres finishing 20 seconds behind him, it is still the KTM rider that has the edge over his former team-mate. Both riders crashed on the dunes, with Despres admitting that the fall he took caused him to see stars. Worse still was the fact that he burst his camelbak during the fall and had to ride the last 100km without water. At the head of the second stage, though, it was Sam Sunderland who finished a full minute ahead of Francesco Lopez, with Barreda Bort ending the day's running in third place.
Marc Coma crashed atop the sand dunes during the second stage of the Dakar
It was a longer day for the people running in cars, with competitors traveling a distance of 433km. It was the Mini drivers who dominated the second stage. Stephane Peterhansel won the second stage of the event, with Carlos Sainz finishing second in the Red Bull Buggy and Giniel de Villiers finishing third in the Toyota. Stage 1 leader Carlos Sousa had trouble with the turbo on his Haval from the 33rd kilometer, losing so much time that any hopes of a Haval on the podium at the end of the Dakar have vanished with the slow dying whine of a turbo. Nasser Al-Attiyah was able to do no better than fifth place, seven minutes off the pace of his team-mate and stage leader Peterhansel. The Qatari driver suffered a total of three punctures on the second day's running, putting him out of contention for the stage top three. Overall, though, it is Peterhansel who has moved into the lead in the car category, with Sainz running second and Al-Attiyah in third.
Nasser Al-Attiyah finished fifth during stage 2 and is currently third overall in the cars category
In the truck category, it is Gerard de Rooy who is the overall leader, while Marco Patronelli leads on quads.
The Dakar contingent now heads from San Rafael to San Juan, with the men on motorcycles having to face the longer route as compared to the competitors in cars or trucks. The terrain is once again challenging, with passes as high as 3,000 metres above sea level.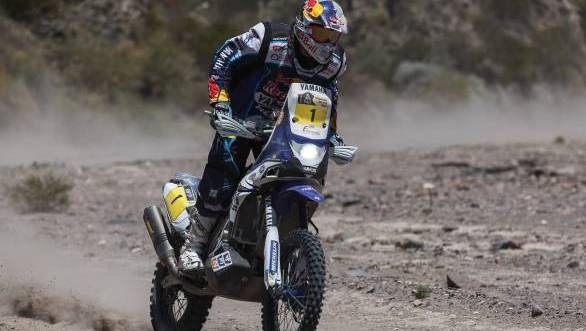 Cyril Despres will be hoping he can make a quick recovery from his sluggish start to the Dakar
Photos courtesy: Shakedown Team