2014 Audi A8L launched in India at Rs 1.11crore
Audi has launched the 2014 A8L for the Indian market with huge fanfare, so much so that the launch event wasn't actually held in India at all. The German company has flown about 150 people, mostly prospective buyers and some journalists to the launch ceremony that was held in Dubai.
The A8L is Audi's luxury flagship which possibly justifies the lavish event that included the world's tallest building, Vegas style fountain shows, a world class illusionist and a guest appearance by Nicholas Cage!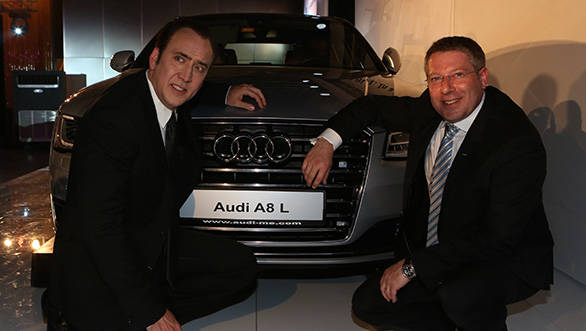 Actor Nicholas Cage and Joe King, head of Audi India with the new A8L
Audi will be offering the A8L with a choice of three engines, two diesels and one petrol. Prices begin at Rs 1.12cr for the base 3.0 diesel which puts it significantly lower than the all new S-Class (Rs 1.57cr ex-Mumbai) from Mercedes-Benz that only come with a more expensive twin turbo V8 for now. Audi also has a reply to the S-Class with not just one but two twin turbo V8s. One is the 4.0 petrol TFSI that produces 435PS and the other is the torque monster diesel 4.2 TDI that makes 385PS. The base 3.0 TDI which will make for the hulk of sales is now slightly more powerful and more efficient. You can read our first drive of the new A8L here.
Audi offers the A8 with huge customisation options
Audi offers the A8 with huge customisation options. There are 111 colours to chose from, 23 leather colours, 12 wood inlays and 23 different parts of the cabin that can be customized. Audi will even emboss the seats with a company logo and customize the illuminated floor boards with the owners name. The new A8L also comes with optional Matrix LED headlamps that technically allow the driver to keep the high beam on at all times without blinding on coming traffic. We have an opportunity to experience this technology later this evening. Look out for our report on this fascinating technology and to whether we think it will work in India.
2014 Audi A8L India launch press release
Audi introduces its flagship model, the new Audi A8L – in a league of its own Handcrafted excellence, exclusive interiors, lightweight construction and a broad portfolio of high-end technologies in the exhaustively updated flagship model • Close to 'Infinite' Customization Options- more than 100 exterior colors, 23 interior leather colors and 12 wooden inlays • First and only car in its segment with innovative Matrix LED headlights delivering close to 1.0 billion illumination configurations • Engine lineup includes one TFSI and two TDI units • The AudiA8 4.2 TDIq, with the power of 385 hp is 'the Most Powerful Diesel Car in India' • Available in India with prices starting at INR 11,295,000 for ex-showroom Delhi and INR 11,143,000 for ex-showroom Maharashtra Mumbai/ Dubai, May 4th, 2014: Audi, the German luxury car manufacturer, today announced the launch of its successful flagship – the new Audi A8L which has been exhaustively updated. Offering superior design, hand-built quality, lightweight construction and an abundance of high-end technologies, the new Audi A8L is priced at INR 11,295,000 for ex-showroom Delhi and INR 11,143,000 for ex-showroom Maharashtra, and is available at all Audi dealerships across India. "Audi India was the first luxury car manufacturer in India to cross the 10,000 sales mark in not just the calendar year but also in the financial year. This double achievement of selling more than 10000 units in a single financial year and in a calendar year validates the strength and stature that the brand has achieved in India. 2014 shall continue to be landmark year for Audi in India in terms of initiatives on the product and network front. With the launch of the new Audi A8L, I am confident that we will further consolidate our leadership position in the market. The new Audi A8L offers luxury connoisseurs in India excellent comfort, superb craftsmanship, strict lightweight construction and a broad portfolio of high-end technologies which truly reflect brand's philosophy of Vorsprung durch Technik," said Mr. Joe King, Head, Audi India. Highlights: Customized Luxury: An important USP of the new Audi A8L is the 'Audi Exclusive' which offers customers countless combinations - close to 'infinite' customization options, to customize and personalize the new Audi A8L as per their choice. In addition to 111 exterior colors, 23 leather colors, 27 customizable parts and 12 wooden inlays, customers can also opt for personalized headrest logo, door sill trims and exclusive folding tables. Innovative Matrix Headlamps: The most important highlight of the new Audi A8L is the Matrix Headlamps, first by any luxury car manufacturer. A direct evolution of Audi's signature LED headlights, the high-beam comprises of 25 small, individual light-emitting diodes per unit that can be switched on and off or dimmed individually as needed - delivering a phenomenal 966,105,422 different illumination configurations. This enables the headlight system to react to oncoming or preceding vehicles and blank out light with great precision while continuing to fully illuminate the rest of the road. Design: The new Audi A8L has undergone the largest update in its history. The engine hood, the single-frame grille and the front bumper are even more sculptured, while the straight lower edges on the headlights give its face a more eye-catching look. The rear of the new Audi A8L has been completely redesigned and is now more homogeneous than ever before. A chrome brace has been integrated to the rear lights. Although the size of the tail end has not actually changed, its new design renders it much flatter and thus broader. Driving Experience: The engine lineup has become more powerful and efficient to offer better performance and optimum efficiency. The new Audi A8L has one TFSI gasoline engine and two TDI units. These are the V8 biturbo 4.0 TFSI with 320 kW (435 hp), the highly efficient 3.0 TDI with 180 kW (250 hp) and the 4.2 TDI with 283 kW (385 hp). Output of the 4.2 TDIq engine has been increased by 35 hp and of the 4.0 TFSIq by 15 hp. In the 3.0 TDIq, the torque is increased by 30 Nm while the fuel efficiency is increased by 20%. The 4.0 TFSI accelerates the new Audi A8L from 0 to 100 km/hr in 4.6 seconds. Equipped with a fast and smooth-shifting, eight-speed tiptronic, the Audi A8L owes its sporty character in large part to the sophisticated chassis. The quattro and Audi drive select system is standard. Comfort: In the interior of the Audi flagship, the elegant lines and generous spaciousness stand out. Every detail demonstrates the hand-built character of the new Audi A8L. Audi offers a wide range of options, for the front seats, including ventilation and massage functions in five programs. Adaptive air suspension with Audi drive select is standard. There are many additional luxury features from which to choose- from the Rear Seat Executive package and Bang & Olufsen Surround Sound System to Park Assist, Surround View Camera, panoramic-sunroof, air ioniser, head-up display, Audi Wireless Internet Access, among others. Dimensions: The new Audi A8L is 5.14 meters long, has a wheelbase of 3.12 meters, is 1.95 meters wide, and 1.46 meters tall. An outstanding strength of the sedan is its lightweight construction. The Audi A8L 3.0 TDI quattro has a curb weight of just 1,935 kilograms - the lowest among the competitors with all-wheel drive. An Audi Space Frame (ASF) made almost entirely of aluminium, it weighs just 231 kgs. "The Audi A8L makes Audi one of the prominent innovation leaders in the worldwide luxury car segment. The car exemplifies true luxury driving experience with its opulence and sophistication quotient," added Mr. King. Audi began the year with the introduction of the most powerful Audi model from its product range - Audi RS 7 Sportback. The company also opened new showrooms in Udaipur, Visakhapatnam and Nashik. Audi also recently inaugurated the country's largest pre-owned luxury car showroom, 'Audi Approved: plus' in Gurgaon. Audi India plans to expand its network to 40 dealerships by the end of 2014. The Audi model range in India includes the Audi A4, Audi A6, Audi A7 Sportback, new Audi A8L, Audi Q3 S, Audi Q3, Audi Q5, Audi Q7, Audi S4, Audi S6, Audi RS 5 Coupé, Audi RS 7 Sportback, Audi TT Coupé, the super sports car Audi R8, Audi R8 Spyder and the Audi R8 V10 plus available across the country:in Ahmedabad, Bengaluru, Bhopal, Bhubaneswar, Chandigarh, Chennai, Coimbatore, Delhi Central, Delhi South, Delhi West, Goa, Gurgaon, Hyderabad, Indore, Jaipur, Kanpur, Karnal, Kochi, Kolkata, Lucknow, Ludhiana, Mangalore, Mumbai South, Mumbai West, Nagpur, Nashik, Navi Mumbai, Pune, Raipur, Surat, Udaipur, Vadodaraand Visakhapatnam. – End –
Price (Ex-Delhi)
Starts Rs 1.56 Crore
Price (Ex-Delhi)
Starts Rs 38.4 Lakhs
Price (Ex-Delhi)
Starts Rs 54.42 Lakhs
Price (Ex-Delhi)
Starts Rs 32.48 Lakhs
Price (Ex-Delhi)
Starts Rs 53.25 Lakhs
Price (Ex-Delhi)
Starts Rs 70.12 Lakhs
Price (Ex-Delhi)
Starts Rs 2.55 Crore
Price (Ex-Delhi)
Starts Rs 1.11 Crore
Price (Ex-Delhi)
Starts Rs 1.94 Crore
Price (Ex-Delhi)
Starts Rs 63.12 Lakhs