2013 Overdrive Independence Quattro Drive Day 1
It was bright and early on Saturday that five Audi SUVs rolled out of the quiet and peaceful Park Plaza Hotel porch in Sector 17 Chandigarh. I hasten to add for the locals that if you heard there was shooting going on in Chandigarh and that some heroes were there, it wasn't us.
The road into Manali is strange. When it's good, its great and when it isn't, it's almost non-existent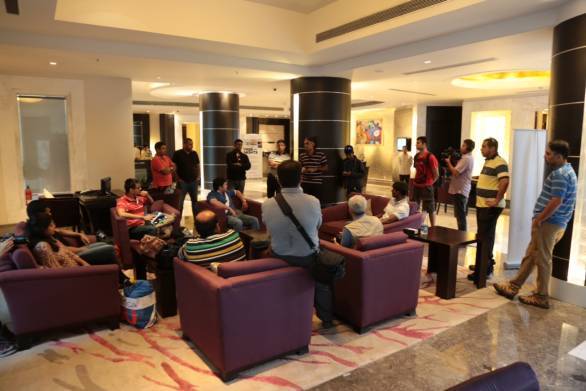 The full crew (minus the photographer and the camera person, obviously)
The full crew (minus the photographer and the camera person, obviously)
Smooth sailing, despite what it looks like
The drive was a short one in distance, just 318km to the hill station of Manali. But it was long on time and patience. The drive is up the beautiful NH21, which is an amazing mountain road that never seems to end. When we found the space, the Audis impressed us with their ability to handle us excitable pilots. But the roads weren't as great as they were the last time around.
Scene on the road. Some festivities were on and there were processions everywhere.
Hark! The mountains approacheth
Our cars reflected in the polarised lenses of our Oakleys
The surface has broken, is older and NH21 has always been a busy truck route and it still is. The upshot is that the suspension got a major workout. Though us drivers and our guests were comfortable but a lot of time was spent waiting to past slower things, passing through towns. It was a great looking day but not always a great driving day.
Entering Manali
Having left at 8am we finally reached our hotel a full twelve hours later. But everyone was fresh, their Nautica gear was unrumpled and their HTC One phones full of pictures from the day and, of course, memories of that awesome green stretch (which looked tremendous, by the way, through the polarised lenses of our Oakleys. It is like someone photoshopped the world and boosted the images a bit) of road that borders the Beas as you pass from Mandi and climb towards Manali.
Today, we were up at 0330, in the cars at 0400, and climbing the 50km from Manali to the first of our high passes, the Rohtang Pass. From there it is only another 85km to Jispa our halt for the night. So why are we intentionally bleary-eyed?
Oh you strange, strange man. Shumi sips water as he drives. No, really.
Unfortunately, Rohtang is a really popular pass as far as tourists are concerned and it creates massive 7 hour traffic jams on top. Leaving stupidly early is the only way around it.
But there is a full on sunbeam of hope in this. We were told as we paid our green toll and enter Manali that we didn't have to do the early morning shift. That we had permits and confirmations that said clear road and little traffic on top.
So, time to pack up the equipment, load up the cars and start the day, then!