2013 Mercedes-Benz GL 350 CDI goes on sale in India for Rs 77.50 lakh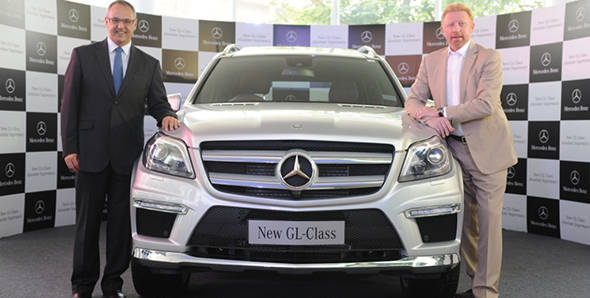 We have always been big fans of the GL. We have taken it into the snow in Dalhousie and even to the world's highest mountain pass – Marsimik La. Now, there is a new GL-Class in town and we are preparing to fall in love with this one all over again.
Launched in Delhi this week, the all new GL gets a completely redesigned front that sees the integration of Merc's new design language earlier seen on the CLA. A-Class, B-Class, M-Class, SLK and the new SL. The headlights too are new with a nice LED eyelid similar to that in the new M-Class and the B-Class. Viewed from the sides you still can't get over the fact that it is a farirly large SUV. You get the distinct feeling that the car has evolved from where the earlier GL left off. It does look more muscular and the sedan like wraparound tail lamps lends it a fresher appearance. The rear looks a lot smarter than the previous gen car. Overall, the car has grown in length by 32mm to 5120mm. Width and height too have gone up to 1934mm (up by 4mm) and 1840mm (up by 10mm) respectively.
Right now only the 3.0-liter V6 diesel will be available. Merc feels that this is the engine that is most suited to Indian conditions. The engine however has been retuned to make 34PS and 109Nm more. It now makes 258PS at 3600rpm and 619Nm between 1600-2400rpm.
The first 100 units will be the "Launch Edition" that, just like when the ML was launched, gets the AMG bodykit, the 21-inch AMG wheels and Deigno interiors. AIRMATIC suspension, attention assist, COMAND sat-nav and all other Merc goodies come standard. The new GL also gets a 360 degree reverse camera that uses five cameras to give you a panoramic view of the SUV's surroundings. The insides are all new and are similar to what you will find in the new ML.
The launch edition of the GL 350 CDI is priced at Rs 77.50 lakh (ex-Delhi), and according to Merc, are already almost sold out.
Ever since the first M-Class was launched, the production of all Merc SUVs has been only from their plant in Tuscaloosa, Alabama. Until last year. For the first time in history the ML-Class was assembled somewhere outside USA. Mercedes' manufacturing facility in Chakan has been producing the ML 250 CDI for quite a few months now. And now, the factory is gearing up to manufacture the GL-Class as well. Merc CEO Eberhard Kern said that by September 2013, the plant will have started production of the GL in India. We expect the prices to drop a fair bit once local assembly begins.